North Korea agrees to return of 27 people from South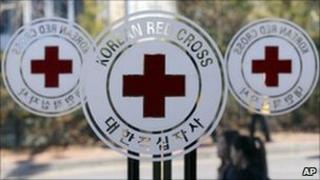 North Korea has agreed to accept the repatriation of 27 out of 31 of its citizens who drifted into South Korea last month, officials in Seoul say.
The fate of four border-crossers who have expressed their desire to stay in the South remains uncertain.
North Korea had previously refused to take any of the people back unless it could take the whole group.
The issue has been mediated by the Red Cross amid rising tensions over the North's nuclear programmes.
It is more than a month since a fishing boat carrying 31 North Koreans drifted into South Korean waters in thick fog.
South Korea's Unification Ministry, which handles ties with the North, said it had received a message from Pyongyang through the Red Cross to return the 27 people by sea.
"Our side agreed to return them," a ministry spokeswoman told AFP.
Seoul has suggested the land border of Panmunjom could be used for the transfer instead given bad weather at sea; it is awaiting a response from the North.
The South Korean Red Cross released a statement containing Pyongyang's latest offer, saying the North was taking into account "the feelings of the family members who are waiting for them".
North Korea had previously accused the South of holding the remaining four people hostage and deceiving them.
Pyongyang had asked that the four would-be defectors confirm their plan not to go home in front of relatives brought to a border meeting.
A defectors' group, based in Seoul, said families left behind by those fleeing the totalitarian North usually face reprisals, including a possible stay at a prison camp.
South Korea refused to take the would-be defectors to the talks, saying their free choice had been checked by a third party.
The cross-border spat broke out shortly after talks between North and South had broken up in acrimony in February.
Tensions have been high between the two in the wake of the November shelling by North Korea of a South Korean island, which left four South Koreans dead.