Japan earthquake: Foreign evacuations increase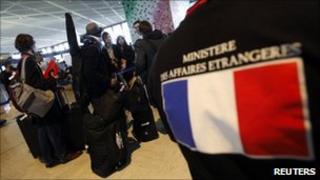 As concern grows over Japan's stricken nuclear power plant, several countries are boosting efforts to evacuate their nationals from the area.
The US has told its nationals to stay 50 miles (80km) away from Fukushima and has chartered flights for those wanting to flee the country.
France and China are evacuating thousands, while the UK and Australia have advised people to leave Tokyo.
Japan has imposed a 12-mile exclusion zone around the Fukushima plant.
Workers are battling to cool overheating fuel after a series of explosions led to fears large amounts of radiation could be released into the atmosphere.
On Friday Japan upgraded the incident from four to five on a seven-point international scale for nuclear accidents.
'Uncertainty'
On Wednesday, the UK Foreign Office said that any Britons living in or north of Tokyo should "consider leaving", but officials have stressed there is no immediate risk to health.
It advised Britons to use commercial flights, but it has also chartered planes to fly from Tokyo to Hong Kong, with free places for those directly affected by the disaster.
The US State Department has also laid on flights for citizens wishing to leave Japan and has authorised the departure of some 600 dependents of diplomatic and commercial staff in Japan.
The White House said its advice to US nationals to stay 50 miles from Fukushima did not imply a lack of confidence in the Japanese warnings.
Spokesman Jay Carney said the steps were "what we would do if this incident were happening in the United States".
As he advised Australians to leave Japan, Foreign Minister Kevin Rudd said the main concern was over problems caused by the extensive damage to infrastructure.
"We have uncertainty of power supply, we have problems with train services, we have problems with public transport services, many schools have closed and there is this repeated series of aftershocks," he said.
The two largest groups of foreign residents in Japan are South Koreans and Chinese.
China says it has evacuated more than 6,000 of its nationals from quake-hit areas, mostly to Niigata on Japan's west coast, and is laying on six to eight additional flights to bring them home.
South Korea has said it will mobilise military ships and aircraft to evacuate its citizens if the situation worsens. At the moment it has told its nationals to stay 50 miles away from the plant.
Most other countries have also advised their nationals to evacuate from the north-eastern region of Japan or to leave the country altogether if they can.
Room shortage
Many of those who have left have flown into Hong Kong. Several hotels there also reported block bookings from foreign companies keen to temporarily relocate staff outside Japan.
Lilian Lui, the Kowloon Shangri-La's director of sales and marketing, said March was peak season for the hotel industry and there were not many rooms available.
"(I'm) not sure if hotels can accommodate all travellers from Japan if there is a huge influx," she told AFP news agency.
The official death toll from Friday's magnitude 9 quake and the tsunami which followed it has now rising to 6,405, with another 10,200 still missing. About 380,000 people are currently still in temporary shelters.