Four found guilty at Tonga ferry disaster trial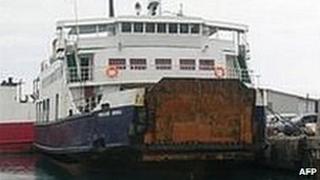 A court in Tonga has convicted four men of manslaughter in connection with the sinking of a ferry in bad weather in 2009, killing 74 people, reports say.
The ferry's captain and first mate, the shipping company's managing director, and a civil servant, were found guilty of the manslaughter by negligence of Vae Fetu'u Taufa, a 21-year-old mother.
They face up to 10 years in prison.
It was Tonga's biggest criminal trial, and followed an official inquiry that found the ferry was not seaworthy.
The Princess Ashika went down during a storm in deep water off the main island of Tongatapu on the night of 5 August 2009.
Most of the 74 passengers were asleep below decks at the time. Ms Taufa was the sole Tongan passenger whose body was recovered.
'Systemic and individual failures'
A royal commission inquiry into the sinking found the ferry was declared unseaworthy in 1985 and was never supposed to sail in deep water.
Nevertheless, the government-owned operator, the Shipping Corporation of Polynesia (SCP) bought the vessel from a Fijian firm in 2009.
The SCP's managing director, John Jonesse - a New Zealander who was one of the defendants - advised that the ferry be purchased "without any proper due diligence, surveys, inspections, valuations, documentation or proper inquiry having been completed", the commission found.
And despite the ship springing leaks during previous voyages, the captain Viliami Makahokovalu Tuputupu, went ahead with the fateful journey, it was alleged.
The disaster "was a result of systemic and individual failures", the inquiry concluded.
"The tragedy is that they were all easily preventable and the deaths were completely senseless."
The two other defendants convicted on Friday were the Princess Ashika's first mate, Semisi Pomale, and the acting director of the Tongan marine and ports department, Viliami Tu'ipulotu.
They have been remanded in custody for sentencing on 4 April.
The SCP also faced a range of charges relating to responsibility for the seaworthiness of the ferry, and was found guilty by the same jury.