Japan plant town evacuees face hard wait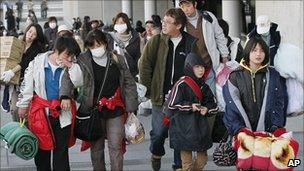 The catastrophic disaster which struck Japan on 11 March made hundreds of thousands of people homeless in a matter of minutes. Such was the power of the initial earthquake and the tsunami it spawned.
But the evacuees from Futaba are different. Their homes were not damaged. They are still standing but were abandoned when residents were told to flee an invisible danger - radiation.
Most thought they would only be gone for a short time. Now it is becoming increasingly clear that they will not be able to go home for a very long time, if at all.
Futaba nestles in the shadow of the crippled Fukushima Daiichi nuclear plant. The facility was the region's largest employer, offering wealth to the town, job security to its people and assurances that the plant would be safe.
Those promises now ring hollow as the nuclear plant's operator, Tepco (Tokyo Electric Power Company) battles to try to stabilise four damaged reactors.
More than 1,000 former residents of Futaba are now sheltering in an old high school in the city of Kazo, just over 200km (124 miles) from the Fukushima power plant and well outside the government-imposed evacuation zone.
Children played in a sandy football field behind the main building while volunteers offered massages to the elderly as they sat in the early spring sunshine.
Lines of colourful washing had been hung out to dry to make the most of the change in the weather. It almost looked festive.
But many people here have relatives inside the plant, working round-the-clock to bring the crisis under control. Others are waiting to see if they might be called back to help out.
Few people were willing to talk to strangers about Fukushima, such is the sensitivity surrounding the facility these days.
Some of the men hanging around the smoking area were slightly more forthcoming. Two contractors who had been inside the plant when the earthquake hit described the violent shaking and the turbine room filling up with dust.
They told the BBC they would go back to work willingly if they were needed. But they didn't want their faces on camera, or their voices recorded.
Shizuo Suzuki, though, has doubts and was willing to express them publicly. He retired from his job at the Fukushima Daiichi plant six years ago.
He was involved in discharging waste water from the facility and has lived in Futaba for more than 40 years.
"Even before the plant was built all we heard was safety - absolute safety," he said. "The men working in there now are probably doing it because it's their job.
"But they're in a dangerous place where no ordinary people would go. If it was me, I wouldn't do it. Even for the sake of the country, I'd refuse."
On site, work continues. The men in their white protective suits and masks have been hailed in local media as heroes, sacrificing their own well-being for the sake of the nation.
But Hiro Hasegawa, head of cooperate communications for Tepco, said they were just professionals doing their job.
"We should say we are proud of them," he said in an interview with the BBC. "Approximately 80-90% of them are Tepco employees.
"We are not forcing them to work. Some people call them heroes. We don't think so. They are doing what they should do as Tepco employees."
But Mr Hasegawa acknowledged that the men were having a "tough time" in a "tough situation".
The hours they work depends on the radiation doses they are exposed to. And when they are forced to pull back to their base camp, conditions are far from easy.
There isn't much room to sleep and food has been an issue, though Mr Hasegawa said that is now being addressed to try to "help motivation".
They will have to find a way to keep the workers going and, in all likelihood, find some reinforcements as the crisis drags on.
Officials say it will be months until the situation at Fukushima Daiichi is stable. Months of hazardous work. Months of worry for friends and relatives.
At the end of it all, the nation's new heroes will return to their families. But they may never be able to go back home.
Related Internet Links
The BBC is not responsible for the content of external sites.