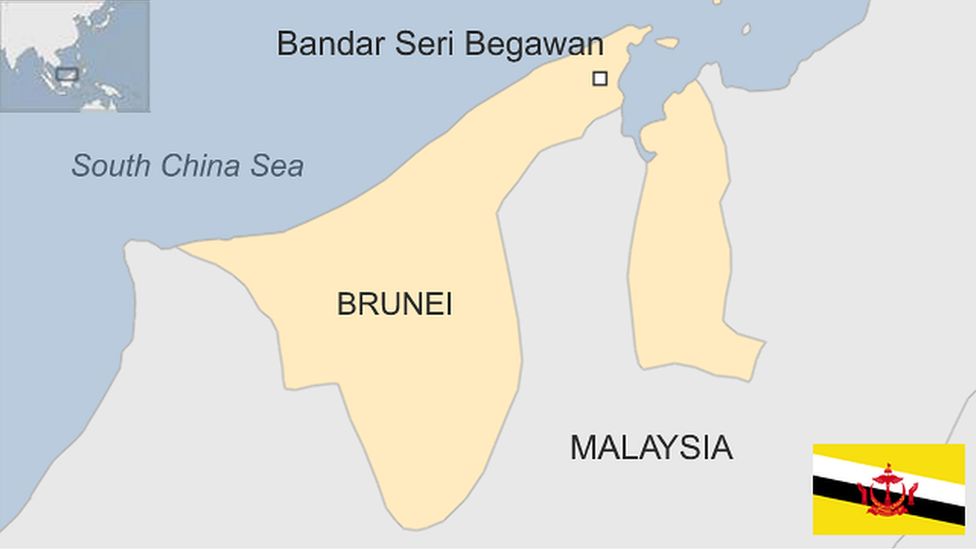 The tiny state of Brunei has one of the world's highest standards of living thanks to its bountiful oil and gas reserves.
Members of the royal family, led by the head of state Sultan Hassanal Bolkiah, possess huge private fortunes. Bruneians pay no income tax. The Sultan regularly allocates land lots and housing to deserving residents under various government schemes.
A British protectorate since 1888, Brunei was the only Malay state in 1963 which chose to remain so, rather than join the federation that became Malaysia. Full independence came relatively late in 1984.
In 2014 Brunei became the first East Asian country to adopt strict Islamic Sharia law which allows punishment such as stoning for adultery and amputation for theft. In 2019, it fully implemented a law prescribing death by stoning for adultery and gay sex in certain circumstances.
In the wake of international condemnation, the Sultan said that a moratorium on carrying out the death penalty would be applied as it had been for more than two decades in common law cases.
Capital: Bandar Seri Begawan
Area: 5,765 sq km
Population: 460,300
Language: Malay
Life expectancy: 73 years (men) 75 years (women)
Sultan of Brunei: Hassanal Bolkiah
The Sultan of Brunei, Hassanal Bolkiah, is one of the world's longest-reigning and few remaining absolute monarchs. He was crowned in August 1968 following the abdication of his father, Sir Haji Omar Ali Saifuddin.
Upon Brunei's independence in 1984, he appointed himself prime minister and in 1991, introduced an ideology called Malay Muslim Monarchy, which presented the monarch as the defender of the faith.
He is one of the world's richest individuals and in a country where the standard of living is high, appears to enjoy genuine popularity amongst his subjects. More recently however, he has faced criticism over the introduction of Islamic Sharia law in the country.
Brunei's media are neither diverse nor free. The private press is either owned or controlled by the royal family. Broadcasting is dominated by state radio and TV.
Media workers exercise self-censorship when covering politics and religion.
Some key dates in Brunei's history:
15th Century - Islamic sultanate of Brunei nominally in control of Borneo, including Sabah and Sarawak, now part of Malaysia, and some parts of the Sulu islands in the Philippines.
1841 - Sultan of Brunei Omar Ali Saifuddin II rewards British army officer James Brooke for helping to quell a civil war by granting him control of Sarawak.
1846 - Brunei reduced to its present size after ceding the island of Labuan to Britain.
1849-54 - British destroy Malay pirates operating between Singapore and Borneo.
1888 - Brunei becomes a British protectorate.
1929 - Oil extraction begins.
1941-45 - Japanese forces Brunei and the island of Borneo.
1950 - Omar Ali Saifuddin III becomes sultan.
1962 - Brunei Revolt; an armed revolt led by opponents of the monarchy and of Brunei's proposed inclusion in the Federation of Malaysia. The insurgents are members of the Indonesia-backed North Kalimantan National Army (TNKU). It is seen as one of the first stages of the wider Indonesia-Malaysia confrontation.
1963 - Following the Brunei Revolt, the sultan decides not to join the Federation of Malaysia.
1963-66 - The Indonesia-Malaysia confrontation or Konfrontasi; an armed conflict between UK and Commonwealth forces against Indonesian troops, stemming from Indonesia's opposition to the creation of the Federation of Malaysia. After Indonesian president Sukarno loses power in 1966, the dispute is resolved.
1967 - Hassanal Bolkiah becomes sultan following the abdication of his father, Sultan Omar.
1984 - Brunei becomes independent.
1986 - Former Sultan Omar dies.
1990 - Sultan introduces ideology of Malay Muslim Monarchy.
2004 - Parliament is reopened, 20 years after it was disbanded, with appointed members. The sultan later amends the constitution to allow some to be directly elected, but no poll date is set.
2010 - Malaysia and Brunei agree to jointly develop two oil areas off Borneo, ending a border dispute dating from 2003 which had held up exploration.
2014 April - Brunei becomes the first east Asian country to adopt sharia law, despite widespread condemnation from international human rights groups.
2014 - Brunei becomes the first East Asian country to adopt Islamic sharia law despite widespread international condemnation.
Related Internet Links
The BBC is not responsible for the content of external sites.