North Korea parliament watched for signs of succession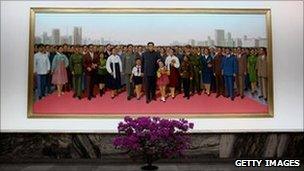 A rare session of North Korea's rubber-stamp parliament is being watched closely for signs of succession.
Analysts of North Korea's opaque politics believe the son of leader Kim Jong-il could be appointed to the National Defence Commission.
This parliamentary session is the first major national meeting since the son, Kim Jong-un, made his political debut.
With Kim Jong-il ailing, the international community is eager to see a stable and clear succession process.
Separately, North Korea's First Vice Foreign Minister Kim Kye-gwan is reported to be in Beijing to meet with his Chinese counterpart, as part of efforts to re-start international talks about how to end the North's nuclear programmes.
The younger Kim was made a four-star general last September and took a leading role in the ruling Worker's Party.
His predicted appointment to the defence body would cement the succession process, and make him the country's second most powerful man.
Analysts expect the succession process to be formally completed by April 2012, the centenary of the birth of late President Kim Il-sung, father of the current leader.
Talks on the larger issue of ending the North's nuclear programme remain stalled by South Korea's call for a "heartfelt apology" from Pyongyang for what Seoul calls two acts of aggression by the North.
These are the sinking of a warship, the Cheonan, on 26 March last year with the loss of 46 South Korean sailors' lives, and the shelling by North Korea of Yeonpyeong Island last November, which killed four people.
North Korea denies involvement in the first incident and says it was provoked by South Korean military exercises into the second.
China's veto at the United Nations Security Council prevented direct sanction of North Korea for these incidents.
China and North Korea have expressed readiness to restart the six-nation talks on ending North Korea's nuclear programmes "without preconditions".