Chinese dailies deflect bad press over artist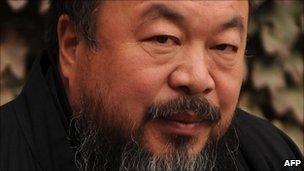 China's Huangqui Shibao daily and its sister publication, the English-language Global Times, have been lone voices commenting on the detention of artist Ai Weiwei this week. The papers are resisting Western criticism of the treatment of Ai, whom they consider a "maverick".
Meanwhile, the Hong Kong press wonders why the mainland authorities don't have the confidence to be more tolerant of dissent. An economic journal says that moves to "disappear" activists do not measure up to China's status as a great nation.
The experience of Ai Weiwei and other mavericks cannot be placed on the same scale as China's human rights development and progress. Ai Weiwei chooses to have a different attitude from ordinary people towards law. However, the law will not concede before 'mavericks' just because of the Western media's criticism. Ai Weiwei will be judged by history, but he will pay a price for his special choice, which is the same in any society.
Some governments and 'human rights institutions' in the West intervened quickly, demanding that China release Ai Weiwei immediately, and escalated this incident into 'a deterioration of human rights' in China. Ai Weiwei has been called a 'Chinese human rights warrior' ... This is a reckless collision with China's basic political framework and also shows disregard for China's judicial sovereignty.
Those in power in Beijing probably think that by arresting Ai Weiwei, imprisoning Ran Yunfei [blogger who praised the Jasmine Revolution], placing Zhao Lianhai [tainted milk activist] under house arrest and so on, they can suppress dissent and can avoid a 'Jasmine Revolution'. But as Zhao Lianhai said in his video, if these people are all seized, ordinary people will not see any hope. Clashes between officials and the people will keep intensifying, and the prospects for China and the future of the next generation will only become darker and more worrying.
With greater national strength, the mainland authorities ought to have greater confidence and adopt a more tolerant attitude towards dissidents. But the situation has been exactly the opposite. The authorities' control over the people has tightened instead, with no effort spared to suppress dissidents. This is not normal. We appeal once again to the mainland authorities to treat dissidents well and to resolve differences through dialogue and consultations, rather than simply using the dictatorial tools of repression. We hope that Ai Weiwei and other dissidents will be released as soon as possible.
Ai Weiwei was taken away while boarding a plane in Beijing and then communications were cut off. Even if he has committed crimes, how can there be a kidnapping-style 'human disappearance'? ... Beijing should have more confidence in its brilliant achievements and economic strength, as well the increasingly strong voice that it has gained in international politics. It should show the bearing of a great nation. Even if there really are 'external forces' finding an excuse to 'stir up trouble', it should respond with higher political wisdom and diplomatic finesse.
BBC Monitoring selects and translates news from radio, television, press, news agencies and the internet from 150 countries in more than 70 languages. It is based in Caversham, UK, and has several bureaux abroad.