Shanghai Disneyland project breaks ground at last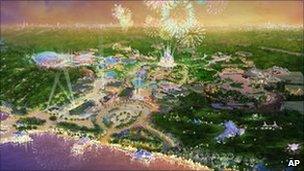 Shanghai government officials and executives from Walt Disney have broken ground on mainland China's first Disneyland amusement park.
The $3.7bn (£2.25bn) project to bring Mickey Mouse and other Disney figures to China has taken 10 years of talks.
Construction is expected to take five years, but analysts are ambivalent about the project's chance of success.
A Disneyland in Hong Kong attracts more than 40% of its visitors from mainland China, and is still loss-making.
Officials there have described the Shanghai plans as a "devastating blow" to the Hong Kong park.
The chief executive of Walt Disney Co, Bob Iger, and Shanghai Communist Party Secretary Yu Zhengsheng led a ceremony featuring Mickey and Minnie Mouse in traditional Chinese dress.
"Our Shanghai resort will be a world-class family vacation destination that combines classic Disney characters and storytelling with the uniqueness and beauty of China," Mr Iger said.
The Shanghai city government retains a majority interest in the project, with Disney holding 43%.
The Hong Kong park, which opened in 2005, has been criticised by tax-payers there for the amount of government investment required for something that has yet to make a profit.
Shanghai's Disneyland is expected to attract 7.3 million visitors in its first year, according to the city government's website.
It is planned to be part of an "international tourism resort" zone not far from the city's main international airport in Pudong.
"Disney is a classic urban entertainment brand. This project will help improve Shanghai's profile as a world famous tourism destination and lend a big boost to the development of culture and leisure industries of Shanghai and the Yangtze river delta," said the mayor of Shanghai, Han Zheng.
The park will be Disney's fourth outside the US, after Paris, Tokyo and Hong Kong.
The large Barbie brand store in Shanghai, which opened with fanfare only two years ago, recently closed.