Kazakhstan President Nazarbayev sworn in for new term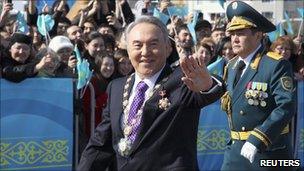 Kazakh President Nursultan Nazarbayev has been sworn in for a new five-year term after a landslide election win criticised by international observers.
Thousands waved flags, greeting him at the inauguration ceremony in Astana.
The 70-year-old, entering his third decade as ruler, said his victory was a vote for stability and prosperity, after gaining 95.5% of ballots cast.
But the Organization for Security and Co-operation in Europe says Sunday's elections lacked transparency.
News agency AP quoted President Nazarbayev as saying: "We have to find the optimal way of empowering parliament, increasing the government's responsibility and improving the electoral process."
Kazakhstan's cabinet offered its resignation after Friday's inauguration, in line with the constitution.
The president is expected to re-appoint or replace ministers over the next few days.
Kazakhstan is yet to hold elections that are deemed to be fully free and fair by international observers.
Related Internet Links
The BBC is not responsible for the content of external sites.