Japan: Minister in first tour of stricken nuclear plant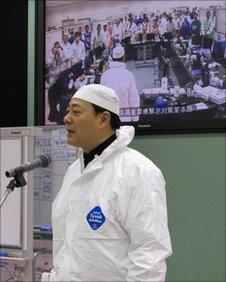 Japan's stricken Fukushima plant has had its first visit by a minister since a huge earthquake and tsunami struck on 11 March, causing leaks of radiation.
Industry Minister Banri Kaieda put on full protective gear for a 45-minute visit during which he thanked workers.
Workers are engaged in a release of radioactive water into the sea and are pumping nitrogen to prevent explosions.
A top executive of plant operator Tepco has now publicly apologised for the "worries and troubles" it has caused.
The earthquake and tsunami on 11 March killed more than 12,800 people. Nearly 15,000 are listed as missing. Hundreds of thousands of people have been made homeless and a number of communities in Japan's north-east have been devastated.
Mr Kaieda is in overall charge of all of Japan's 50 nuclear reactors.
A spokesman said Mr Kaieda "greeted crews working [at Fukushima] and conveyed his appreciation for their hard work".
The minister also visited the J-Village sports building, which serves as a base for the emergency workers.
There is a 20km (12-mile) exclusion zone around the plant but Mr Kaieda said he hoped residents would be able to return to their homes briefly.
He added: "They will only be able to stay for a few hours to gather their personal belongings."
Meanwhile, Sakae Muto, vice president of Tepco (Tokyo Electric Power Co) issued a public apology at a news conference for the failures in handling the disaster.
He said: "It is almost a month since the earthquake took place. I would like to apologise from my heart over the worries and troubles we are causing for society due to the release of radiological materials into the atmosphere and seawater.
"We caused worry and trouble for having made this decision without taking sufficient time to explain the matter beforehand to those involved, to the press, to the fishing industry and to people overseas, and we are sorry for this."
The planned release of radioactive water into the sea is expected to end on Sunday, a day later than expected. The release will free up storage space for more-radioactive liquid.
China has urged Japan to observe international law and adopt effective measures to protect the marine environment, amid concern over the discharge of some of the contaminated water into the Pacific Ocean.
South Korea has also complained of not being notified about the procedure.
Work is continuing at the plant to prevent further serious leaks and explosions.
Tepco is to send an unmanned US T-Hawk drone over the plant to assess the extent of damage, possibly on Sunday.
Meanwhile it emerged that four litres (a gallon) of mildly radioactive water had spilled from the spent fuel pool of one reactor at another nuclear plant, although it was of no risk to the public.
The leak occurred at the Onagawa nuclear plant after a powerful 7.1-magnitude tremor late on Thursday cut power and forced cooling systems onto back-up generators.
Hidehiko Nishiyama, deputy director general of Japan's nuclear watchdog, said it was a serious issue, adding "we need to review safety standards from all angles".
Japan on Saturday announced it would ban farmers from planting rice in any soil found to contain high levels of radioactive matter and provide compensation.
"We had to come up with a policy quickly because we are in planting season," said Agriculture Minister Michihiko Kano.
Earlier, Japanese reactor maker Toshiba said it could decommission the earthquake-damaged Fukushima nuclear power plant in about 10 years, a third quicker than the US Three Mile Island plant.
The work would involve removing the fuel rods from their containers and the spent fuel rods from the storage pools from four of the plant's reactors and demolishing facilities.
Three Mile Island suffered a partial reactor core meltdown in 1979.
Related Internet Links
The BBC is not responsible for the content of external sites.