Japan frees Yamaguchi-gumi crime boss Kenichi Shinoda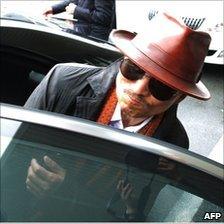 The head of Japan's biggest yakuza crime syndicate has been freed from jail after almost six years.
Kenichi Shinoda was jailed for illegal gun possession shortly after taking over the Yamaguchi-gumi - a gang with an estimated 35,000 members.
Japan's police, who have vowed to crack down on the yakuza, say they now expect "aggressive activities" from the gang.
Late last year Shinoda's second-in-command, Kiyoshi Takayama, was arrested over extortion allegations.
Japan's yakuza groups are not illegal, and frequently operate front companies out of smart offices.
Analysts say the gangs are involved in every area of criminal activity in Japan - from drug-running and prostitution to stock-market manipulation.
Before he went to jail, Shinoda is said to have greatly expanded the Yamaguchi-gumi's reach by sealing deals with other gangs.
But in 2009 the police launched a crackdown which has seriously disrupted the gang's operations.
Shinoda emerged from jail in Fuchu, west of Tokyo, wearing sunglasses and a leather hat.
The 69-year-old, who has previously spent time in jail for killing a rival with a samurai sword, headed back to his home in the city of Kobe.