Bob Dylan plays his first gig in Vietnam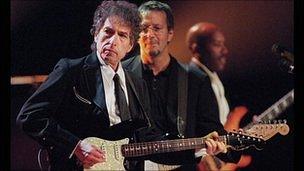 Legendary folk singer Bob Dylan, whose songs became anthems of the 1960s anti-Vietnam war movement, has played his first concert in the Communist country.
Dylan played a concert in Ho Chi Minh City - formerly Saigon - on Sunday evening.
Dylan, 69, jammed on stage playing guitar, harmonica and keyboard and singing hits including A Hard Rain's a-Gonna Fall and Highway 61 Revisited.
During the time of the Vietnam conflict, many of Dylan's protest songs defined the mood of a generation, with young Americans marching for peace followed by similar protests in the UK and other western countries.
Around half of the 8,000 seats at RMIT University were sold, to a mix of Vietnamese and foreigners, Associated Press reported.
Correspondents say many in youthful Vietnam have never heard of the man who wrote Blowin' in the Wind and The Times They Are A Changing.
About half of Vietnam's 87 million people are under 30, with no memory of the years of war with the US.
But Dylan remains important to those who were living in the country at the time.
"Bob Dylan's music opened up a path where music was used as a weapon to oppose the war in Vietnam and fight injustice and racism," Tran Long An, 67, vice-president of the Vietnam Composers' Association told AP.
"That was the big thing that he has done for music."
Another concert-goer said Dylan's music was a source of hope during the war.
"We listened to anything that spoke of peace. We called him the peace poet," said Stan Karber, 60, of Fort Smith, Arkansas, who served in Vietnam from 1969 to 1971 and has lived in Ho Chi Minh City for the past 15 years.
Big-name concerts are still rare in Vietnam and the Communist government maintains a strict control over what is said in public.
Dylan's song list had to be approved in advance by the government, although the concert's promoter Rod Quinton said no restrictions had been imposed.
The concert forms part of the musician's Asia-Pacific tour, marking 50 years since his first major performance.
He played in Shanghai on Friday after his debut China gig in Beijing on Wednesday.
After reportedly banning a concert by Dylan last year, Beijing agreed he could perform if his songs were vetted by censors.
The authorities have been wary of foreign performers, particularly since the Icelandic singer Bjork signalled her support for Tibetan independence at a concert in Shanghai in 2008.
Bob Dylan's two gigs had to be approved by the national ministry of culture and officials said the singer would have to abide by an agreed playlist.
The move was criticised by Human Rights Watch in the US, which said "Dylan should be ashamed of himself".
Brad Adams, executive director of the organisation's Asia division also said: "He has a historic chance to communicate a message of freedom and hope, but instead he is allowing censors to choose his playlist."
Dylan's next tour stop will be Hong Kong, followed by Singapore.
Two days later he will go to Australia and then on to Europe in June.
Related Internet Links
The BBC is not responsible for the content of external sites.