Japan nuclear issue: PM seeks to calm food safety fears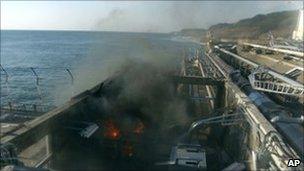 Japanese Prime Minister Naoto Kan says produce from the region around the Fukushima plant, which was hit by last month's earthquake and tsunami, is safe to eat despite radiation leaks.
He said radiation levels were now declining and consuming local products was "our way to support the area".
UN nuclear experts also suggested food from the region was safe.
The remarks came as Japan re-classified the nuclear threat to the highest level on a scale of nuclear accidents.
Officials say the decision to raise the rating to level seven reflects the total release of radiation at the Fukushima Daiichi power plant, rather than a sudden deterioration.
Level seven previously only applied to the 1986 Chernobyl disaster in Ukraine, where 10 times as much radiation was emitted.
In a news conference late on Tuesday Mr Kan said: "People should not fall into an extreme self-restraint mood. They should live life as normal.
"Consuming products from the regions that have been affected is also our way to support the area."
He added: "Step by step, the reactors in the Fukushima Daiichi power plant are moving toward stability."
Meanwhile, the Japanese government has downgraded its assessment of the economy in the wake of last month's devastating earthquake and tsunami - the first time in six months it has downgraded its assessment.
It said key areas of the economy, including industrial production and exports, would suffer.
'Little public health risk'
The International Atomic Energy Agency (IAEA) said the latest food sample data showed contamination in the region was below limits set by Japan.
"Samples of various vegetables, fruit, various meats, seafood and processed raw milk in eight prefectures indicated that iodine 131, caesium 134 and caesium 137 were either not detected or were below the regulation values," IAEA deputy head Denis Flory told reporters on Tuesday.
The World Health Organization (WHO) said risk to public health from the accident was no worse after the change.
"Our public health assessment is the same today as it was yesterday," WHO spokesman Gregory Hartl said.
"At the moment there is very little public health risk outside the 30-km (evacuation) zone."
The cooling systems at the Fukushima Daiichi nuclear plant were damaged in last month's earthquake in north-east Japan and the tsunami it triggered.
Workers have been struggling to prevent several reactors from overheating.
Officials have warned it will be several months before the situation at the nuclear facility is brought fully under control.
Last month's earthquake and tsunami it triggered left 13,228 people dead and 14,529 missing.
More than 150,000 people have been made homeless.
Related Internet Links
The BBC is not responsible for the content of external sites.