US calls for release of citizen 'held in North Korea'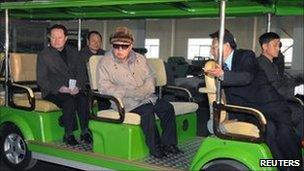 The US state department says an American citizen is being held in North Korea, and is calling for the person's release on humanitarian grounds.
No details have been given about the American's identity or the circumstances of the arrest.
The news comes ahead of a scheduled visit to Seoul this weekend by US Secretary of State Hillary Clinton.
Efforts to ease tensions on the Korean peninsula are continuing, after two military attacks last year.
The state department is refusing to answer questions about the detained citizen - such as who are they? What were they doing in North Korea? When, where and why were they arrested? - because it says the individual has not signed a privacy waiver.
The US and North Korea fought on opposite sides of the Korean War. Washington and Pyongyang still do not have diplomatic relations, so officials from the Swedish embassy are acting on America's behalf in this case and have visited the person being detained.
The state department has called for the person's human rights to be respected.
There is a long history of American citizens being held after trespassing in North Korea.
Since 2009, it has taken visits to Pyongyang by two former US presidents to secure the release of Americans in detention there.
North Korea's suspected nuclear weapons programme is a key obstacle to improving relations with Washington.
That will be discussed when Mrs Clinton visits US ally South Korea.
There is pressure to resume international talks on de-nuclearising the North following its shelling of a South Korean island last year and accusations that it sank a South Korean warship.
But Washington and Seoul say that before any talks, North Korea has to demonstrate a change in its attitude and behaviour.
And only this week, the US Commander of American forces in Korea said the North would not abandon its nuclear capability: It wants it as a deterrent and as a tool to extract economic aid.
Later this month, former US President Jimmy Carter will fly to Pyongyang on a private visit to discuss issues including nuclear weapons - and, almost certainly, the detention of the American citizen, if one is still being held.