EU eases Burma sanctions on some civilian ministers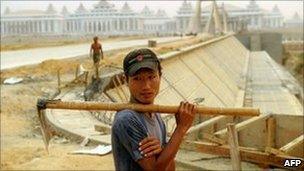 The EU has relaxed some of its sanctions against members of Burma's government, signalling a more flexible approach by the West.
Travel and financial restrictions have been suspended on four ministers - including the foreign minister - and 18 vice-ministers in the new government.
It is the first easing of curbs since they were imposed in 1996 in response to abuses by the military junta.
It follows the swearing-in last month of a new nominally civilian government.
Following Burma's first elections in 20 years, it was the final stage in a long road to what the country's military leaders have called a "disciplined democracy".
However, critics have labelled the new so-called civilian administration a sham, since it is made up of former generals, some serving military officers and a handful of technocrats.
The EU decision to relax its measures against Burma was taken at a meeting of foreign ministers from 27 states late on Tuesday.
The EU Council said in a statement that the application of a visa ban and asset freeze for "certain civilian members of the government" would be lifted for a year, especially for Burma's foreign minister "as an essential interlocutor" with the West.
"We recognised that there have been changes in the government and we will judge the new government by its actions," said David Lipman, the EU's ambassador to Burma.
All those who have had their restrictions suspended have never served in the military - or, as in the case of Foreign Minister Wunna Maung Lwin, left the army more than a decade ago.
The Council also said a ban on high-level EU visits to Burma would be lifted.
However, restrictions against the rest of the country's ministers will be maintained, and trade and financial sanctions will remain in place for at least another year, the statement said.
Analysts say the argument for or against economic sanctions in Burma is a controversial subject both inside and outside the country.
Those wanting sanctions lifted, who have gained a stronger voice after Aung San Suu Kyi's release, say they hurt everyone, rather than just the leaders they target; or that they have little impact, as foreign trade with countries like Thailand and China goes on anyway.
Those in favour of sanctions say they do hurt Burma's leaders and help pressure for an end to human rights violations.
The banned party of Burma's Aung San Suu Kyi, the National League for Democracy (NLD), has said it wants international talks on "modifying" sanctions.
In an interview with foreign media last month, Aung San Suu Kyi said: "Sanctions must remain in place. Sanctions should only be lifted when something has changed here."
Related Internet Links
The BBC is not responsible for the content of external sites.