Xinjiang man stabs six passers-by and kills himself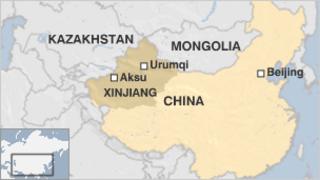 A young man has stabbed six people and killed himself in Xinjiang, western China, state media has reported.
One of the six, a student, is in critical condition, but all survived.
Police surrounded the man, who state media said resisted arrest and then slashed his own throat three times to kill himself.
Xinjiang is the home to a largely ethnic Uighur population which feels increasingly pressured by Han Chinese migration and strict controls.
The stabbing frenzy occurred in Kashgar City, just after 2000 local time (1200 GMT).
Xinhua state news agency described the man as in his 20s and armed with a knife and scissors.
It said police confirmed that the man was dead and found a driving license and five bottles suspected of containing marijuana.
The report did not give a possible motive for the attack.
In 2009, deadly ethnic riots erupted in Xinjiang after tensions flared between the Muslim Uighur minority and the Han Chinese.
There have also been a number of blasts in Xinjiang in the past, which the government blames on Uighur separatists.
But Uighur activists and human rights groups accuse Beijing of using the issue to crack down on Uighur dissidents, who have complained that waves of Han Chinese migrants have marginalised the Uighur culture.
China has poured troops into Xinjiang, which borders Central Asia, since the unrest in July 2009 in Urumqi which left about 200 people dead.
Rights group Amnesty International says more than 1,000 people have been detained in the wake of the violence.