Four killed in New Taipei City factory explosion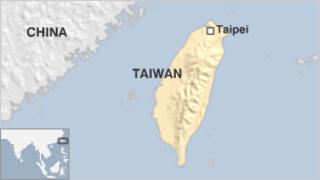 At least four people have been killed in an explosion at a "ghost money" factory in northern Taiwan.
Eighteen others were injured in the blast in New Taipei City, which triggered a massive fire.
The blaze and explosions are believed to have been caused by fireworks stored in the building, according to an intial investigation.
The factory reportedly makes fake paper money to be burnt at Taiwanese rituals to pay respects to the deceased.
Vice-Mayor Hou Yu-ih said the blast occurred as a truck driver was unloading firecrackers, and said it had destroyed a dozen houses nearby, AFP news agency reported.
The sound of the explosion could be heard from as far as 10 kilometres (6.2 miles) away, while smoke rose nine storeys high, the Apple Daily newspaper reported.
The newspaper said witnesses had seen cars incinerated and the windows of houses smashed.
Two men and a woman were among the dead. The other body was too burnt to be identified, Reuters reported.