UN's Ban Ki-moon calls for Thailand-Cambodia ceasefire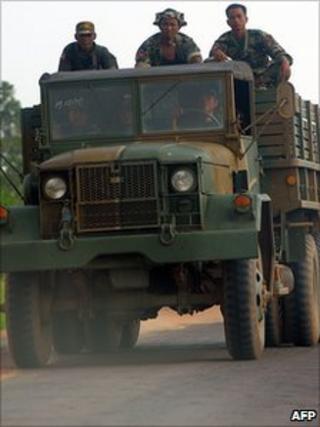 UN Secretary General Ban Ki-moon has called on Cambodia and Thailand to declare a ceasefire, as border clashes continue for a third day.
Mr Ban said the countries' border dispute could not be resolved by military means and both sides needed to engage in "serious dialogue".
The fighting took place west of the disputed Preah Vihear temple, where deadly clashes erupted in February.
Ten soldiers have so far been killed in the clashes, which began on Friday.
The two sides exchanged heavy weapons fire on Sunday, military commanders on both sides confirmed.
"The secretary-general calls on both sides to exercise maximum restraint and to take immediate measures to put in place for an effective and verifiable ceasefire," said UN spokesman Martin Nesirky.
Thousands of villagers evacuated from their homes because of the fighting were sheltering in camps on either side of the porous border.
Following February's fighting near the 900-year-old Preah Vihear temple, an informal truce had appeared to be holding.
Both sides blame each other for Friday's exchange of fire near two other disputed temples that left at least six soldiers - three from each side - dead.
Shelling and gunfire broke out again in the same area on Saturday and claimed the life of one Thai soldier and three Cambodians, according to officials.
Indonesia, which has been trying to broker a lasting peace deal between the two neighbours, has also called for an immediate ceasefire.
Parts of the Thai-Cambodian border have never been formally demarcated, causing continuing tensions between the two countries.
An international court awarded the Preah Vihear temple to Cambodia in 1962 but both sides claim ownership of the surrounding area.