Thailand and Cambodia resume fighting along border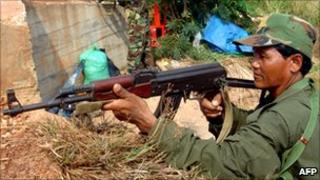 Thai and Cambodian forces have clashed for a fourth day along their disputed border, despite calls by the UN for a ceasefire.
Field commanders on both sides said artillery, mortars and rifle fire were exchanged at nightfall on Monday around Cambodia's Ta Krabey temple.
Twelve soldiers have been killed and 36,000 people displaced in the recent clashes.
Both sides blame each other for the latest fighting, which began on Friday.
On Saturday, UN Secretary General Ban Ki-moon called on the two neighbours to declare a ceasefire.
Mr Ban said their border dispute could not be resolved by military means and both sides needed to engage in "serious dialogue".
'Not stay still'
The Ta Moan and Ta Krabey Hindu temples - which lie at the centre of the latest dispute - stand in a jungle area claimed by both sides.
The area is about 200km (125 miles) west of the disputed 900-year-old Preah Vihear temple, the scene of deadly clashes in February.
The Cambodian Defence Ministry said Thai shelling had "damaged" the two temples during clashes over the weekend, but did not give further details.
It also said attacks had hit civilian villages, and a school and 10 houses had been destroyed, according to Reuters news agency. About 17,000 people had been evacuated, it added.
Meanwhile, a Cambodian government spokesman, Phay Siphan, said "some Thai nationals" were taken into custody for "spying".
The toll since Friday is five Thai soldiers killed and 31 wounded, and seven Cambodians killed and 17 wounded.
"We could not stay still and allow them to attack. We had to counter responsively," Thai army spokesman Col Sansern Kaewkamnerd told AP news agency.
Meanwhile, Indonesian Foreign Minister Marty Natalegawa, chair of the Association of Southeast Asian Nations (ASEAN), cancelled a trip to both countries scheduled for Monday.
Mr Natalegawa has been holding talks with both countries in an attempt to end the conflict.
Indonesia has pushed to send military observers to the region, but the move has so far been rejected by Thailand.
Thai Prime Minister Abhisit Vejjajiva has said third-party involvement might make it "more complicated", and that the dispute needs to be settled between the two countries alone.
Parts of the Thai-Cambodian border have never been formally demarcated, causing continuing tensions between the two countries.
An international court awarded the Preah Vihear temple to Cambodia in 1962 but both sides claim ownership of the surrounding area.