China: Shanghai port lorry driver strike ended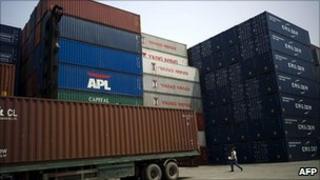 Lorry drivers in Shanghai have ended a strike over high operating costs at the world's busiest container port.
Hundreds of drivers took part in three days of protests against port fees and rising fuel prices, causing some disruption to shipping.
In response, authorities cut some port fees and abolished others.
Correspondents say the strike shows the potential risk of unrest in China due to inflation, which hit a high of 5.4% in March.
Drivers began the protest on Wednesday, blockading two of the city's cargo terminals - Baoshan and Waigaoqiao.
The strike fizzled out on Monday despite some drivers saying they were unsatisfied by the changes to fees announced late on Friday.
There was a heavy police presence around the strike, and reports of arrests.
China's heavily censored state media made little mention of the protest.
Chinese officials have warned that inflation is likely to remain high for the rest of the year.