Ahmadiyah killings trials begin in Indonesia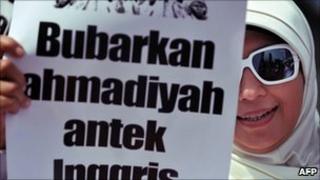 Twelve men have gone on trial in Indonesia charged with the killing of members of the small Ahmadiyah Islamic sect.
The men have been charged with involvement in an attack in February when 1,000 Muslims surrounded the home of an Ahmadi.
Three people were bludgeoned to death and scores were injured after putting up a brief fight.
The men are being tried separately at a court in Serang.
But most face the same charges - inciting or taking part in group violence that caused injuries and deaths, with the maximum penalty of 12 years.
More than 500 of their supporters gathered outside the courthouse praying and chanting "God is great", while more than 1,000 police and military officers stood on guard.
In court, lawyers for the accused were confident of their clients' innocence, claiming they were not directly involved in the killings.
Rights groups have called for the authorities to seek the arrest of the mastermind of the attack, and more people who were part of the mob.
Intimidation against the Ahmadis has increased since the deadly violence. Regional governments have passed decrees that severely limit the activities of the sect.
Activists call the decrees an abuse of power, and the central government's silence on it is being seen as tacit approval.