Australia to toughen asylum law after riots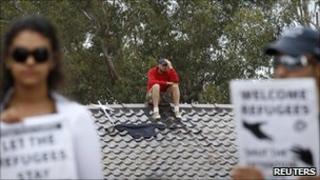 Australia has promised tough action against asylum seekers convicted of crimes while in detention, after riots at two immigration detention centres.
Immigration Minister Chris Brown said a new law would mean any asylum seeker found guilty of an offence would fail the character requirements for a permanent visa.
He said it was a "clear message" that recent rioting was unacceptable.
Small groups of protesters remain on the roofs of the two restive centres.
Last month riot police were called in after inmates at Australia's offshore asylum processing centre on Christmas Island protested over their detention.
Another riot erupted last week at the Villawood detention centre in Sydney. Fires were started and nine buildings were gutted.
Mr Brown said the law - if passed by parliament - would apply to those involved in the recent rioting.
Under the proposed legislation asylum seekers found to be genuine refugees - but who had committed offences while in detention - would receive only a temporary visa, meaning that they could be deported once the situation in their home country was considered to have improved.
The legislation would send "a very clear message to people in immigration detention that destructive behaviour is not acceptable", he said.
Refugee advocates criticised the move.
"I don't have a problem with them facing the criminal justice system, but you cannot strip them of their refugee status because for many of them that would involve a death sentence," human rights lawyer Julian Burnside told Australian radio.
The opposition, meanwhile, said that the measures did not go far enough and that all those arriving in Australia illegally should be denied permanent resident visas.
Critics blame the unrest at Australia's detention facilities on over-crowding and the length of time it takes for detainees to have their cases processed.
In recent months the number of asylum seekers arriving in Australia by boat - mainly from Iraq, Sri Lanka and Afghanistan - has increased. All those who arrive in Australia by boat are subject to mandatory detention.
The government has announced the provision of another 1,900 beds to accommodate the influx.