Thailand 'red-shirt' radio stations raided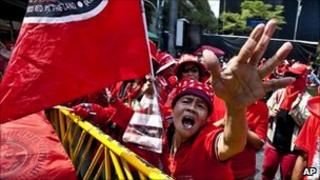 The offices of 13 radio stations linked to Thailand's anti-government red-shirt protesters have been raided by police.
A police commander said the radio stations were targeted because they were operating without licences.
But opposition politician Jatuporn Prompan accused the government of trying to silence its critics.
Analysts say political tension is rising in Thailand, with Prime Minister Abhisit Vejjajiva expected to announce an election for early July.
The last election in 2007 left Thailand with a government broadly allied to the red-shirt movement, which is largely made up of support from the rural and urban working class.
But a series of legal rulings, and mass rallies by yellow-shirted protesters - a loose grouping of royalists, businessmen and the urban middle class - eventually brought down the government in 2008.
The red-shirt protesters have held frequent demonstrations since, trying to force the government to call an election.
Police Lt Col Udom Sukprasert told AFP news agency the raids on the radio stations were in response to a request from telecommunication officials.
But Mr Jatuporn told AFP the move sent a "strange signal".
"It's a sign of hiding information from people so as to stage a coup," he said.