China and US begin human rights talks in Beijing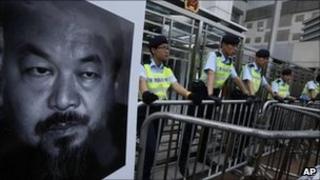 US and Chinese officials are meeting in Beijing on Wednesday for talks on human rights.
The US is expected to urge China to ease a severe government crackdown on dissent, which activists say has been the most extensive in years.
Government critics including lawyers, bloggers and activists - among them artist Ai Weiwei - have been targeted.
The US state department has said it will focus on the recent "negative trend" of disappearances and arrests.
The human rights dialogue between Washington and Beijing was suspended for several years before it restarted in 2008.
Prominent artist
On the Chinese side, the delegation will be led by foreign ministry official Chen Xu.
Assistant Secretary of State for Democracy, Human Rights and Labour Michael Posner will lead the US representatives.
"Discussions will focus on human rights developments, including the recent negative trend of forced disappearances, extra-legal detentions, and arrests and convictions," the US State Department said in a statement ahead of the two days of talks.
China hoped the meeting would help deepen mutual understanding but did not want human rights used as an excuse for intervention in domestic affairs, Foreign Ministry spokesman Hong Lei said on Tuesday.
"We oppose any country that uses human rights to interfere in China's internal affairs," said Mr Hong.
One of the most prominent figures to be targeted is artist Ai Weiwei, detained in early April while trying to leave the country.
The foreign ministry says he is under investigation for economic crimes but his family says officials have refused to tell them where he is, or confirm he is being investigated.
Some of those who targeted have disappeared, while others have been given long prison sentences and even more have faced other forms of police pressure.
The BBC's Michael Bristow, in Beijing, says that some believe China has launched this crackdown because it fears unrest similar to that taking place in the Middle East and North Africa.
Others believe that politicians looking to be promoted in next year's leadership reshuffle are trying to show how tough they are.