American donor gives Picasso to University of Sydney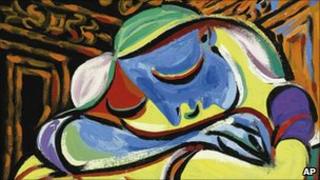 A Pablo Picasso painting worth millions of dollars has been given to the University of Sydney by a mystery US-based donor.
The donor has said that proceeds from its sale must be used to fund scientific research.
Entitled Jeune Fille Endormie (Young Girl Asleep), the 1935 painting depicts Picasso's lover, Marie-Therese Walter.
It is expected to raise between $15m and $20m (£9m-12m) when it is auctioned in London in June.
The painting was donated last year by someone who had requested anonymity, the university's vice-chancellor, Michael Spence, said in a statement.
The donor flew to Sydney and presented the painting to the university personally, he said.
Mr Spence said part of the money raised would be used to fund research into diabetes, obesity and cardiovascular disease.
Giovanna Bertazzoni, director of impressionist and modern art at Christie's in London, said the auction house was pleased to be offering "an absolute jewel of a painting".
Known as Picasso's secret lover, Marie-Therese Walter was 17 when Picasso, then 45, met her in Paris.
The artist was married to Olga Khokhlova at the time.
Last year another portrait of Marie-Therese Walter, titled Nude, Green Leaves and Bust, sold to a mystery bidder for $106.5m at Christie's in New York.