Singapore opposition make 'landmark' election gains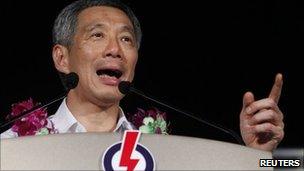 The governing party in Singapore has won all but six seats in parliamentary elections, but the opposition has made significant gains.
The People's Action Party (PAP), in power for more than 40 years, won 81 out of 87 seats.
But the opposition described its own wins, including a seat held by the country's foreign minister, as a "political landmark".
Prime Minister Lee Hsien Loong agreed it was a "watershed election".
Politics in the tiny but hugely wealthy state have been dominated by the current ruling party since independence in 1965.
"It marks a distinct shift in our political landscape," Mr Lee told an early morning news conference on Sunday.
"Many [Singaporeans] wish for the government to adopt a different style and approach," he said. "Many desire to see more opposition voices in parliament to check the PAP government."
He said his party would undergo some "soul-searching" and expressed willingness to work with lawmakers from the opposition.
Although the ruling party won the great majority of seats, the party's share of the popular vote slipped to around 60% from around 67% at the last election, the results showed.
The share of seats means that the party retains the two-thirds majority allowing it to amend the constitution.
However, the opposition wins represent their best performance since Singapore became independent from the Malaysian federation in 1965.
Compulsory voting ensured a high turnout in Saturday's vote, with close to 2.06 million people - 93% of the electorate - taking part.
The BBC's South East Asia correspondent Rachel Harvey says that for the first time in a Singapore election the many parties of the traditionally fragmented opposition adopted a co-ordinated strategy which allowed them to challenge almost every seat.
In addition, the explosion of new media has opened up greater space for debate in a country where traditional platforms - TV, radio and newspapers - are strictly controlled, she says.
Related Internet Links
The BBC is not responsible for the content of external sites.