Indonesia seeks life term for Abu Bakar Ba'asyir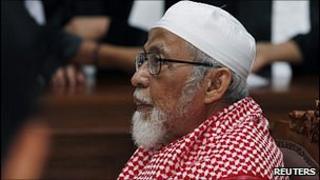 Prosecutors in Indonesia are seeking a life sentence for radical Muslim cleric Abu Bakar Ba'asyir for inciting the financing of an extremist group.
Addressing a court, they said the cleric had influenced others to fund acts "he would suspect would be used partly or fully for terrorism acts".
The verdict in the case in not due for several weeks.
Mr Ba'asyir, seen as the spiritual leader of banned group Jemaah Islamiah, denies links to extremist activity.
Jemaah Islamiah was blamed for the Bali nightclub bombings in 2002 which killed 202 people.
This is the third time Mr Ba'asyir has faced terrorism-related charges.
'Terrorism acts'
Dozens of his followers gathered at the south Jakarta court where his trial has been taking place, as well as hundreds of policemen.
The cleric is accused of having encouraged extremists to finance an Islamic militant training camp in Aceh, uncovered last year.
He was arrested in West Java by anti-terror police last August, six months after the camp was discovered by police.
Officials believe the group at the camp had plans to launch an attack in Indonesia similar to that in Mumbai, India, in November 2008, when Islamist militants killed 166 people.
"We wish judges to decide that Abu Bakar Ba'asyir has been proven guilty of planning and of influencing others to provide money for an act that he would suspect would be used partly or fully for terrorism acts," prosecutor Andi Muhammad Taufik told the court.
Mr Ba'asyir denies having links to the Aceh camp, and says the allegations against him have been "engineered by America".
He has previously served 26 months in jail before being cleared of involvement with Jemaah Islamiah.
He was also imprisoned for conspiracy over the Bali bombings but his conviction was overturned and he was released in 2006.
The BBC's Karishma Vaswani, in Jakarta, says the request for a life sentence is being seen as a sign that Indonesia wants to send a message of zero tolerance to Islamic extremists.
But analysts say it is unlikely he will receive a life term when a verdict is delivered in June, our correspondent adds.