Hong Kong: Home of fine wine, deep pockets, big cellars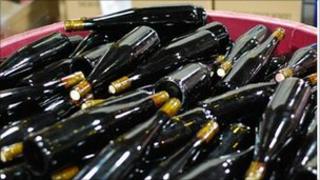 Could China's thirst for fine wine, empty the cellars of the western world?
That's the question being asked ever since Hong Kong has become the centre of the global wine trade, with more money raised at wine auctions there than in London or New York last year.
Whether they are top officials who want to show off to their friends or successful entrepreneurs who want to use their money to build cellars to rival those of their business partners, the Chinese are buying up a lot of the best vintages, leaving less for collectors elsewhere.
At a recent wine auction, in one of Hong Kong's best hotels, there was what you might call "old money" - Hong Kong grande dames clad in Chanel, and the newer type of bidder, men mostly from the mainland.
One of them appeared to have brought his mistress. She was tiny and looked rather bored.
Before the bidding got under way, an announcement in English and Chinese explained the rules. For some bidders, this was still a new experience.
Soon the numbers were climbing fast, with many of the bids coming from just one or two individuals. They seemed to have deep pockets.
Hong Kong businessman James Tien has been collecting fine wine for many years.
He has watched in recent years as the growing interest in wine on the mainland has pushed up prices.
"It's like real estate in Knightsbridge in London, or in Hong Kong on the Peak: the mainland's buying up a lot of things that Hong Kong people used to consume in Hong Kong," he notes.
Mr Tien says you can tell the mainland bidders because they are buying in bulk.
"Most of them, trying to be sophisticated, they start off with zero," he says. "So to build up a wine cellar they would want, say, 1,000 to 2,000 bottles."
Raymond Ting's family made its money in real estate on the mainland.
Now he is in mergers and acquisitions and he has started collecting wine. The best of it is in a huge fridge next to the desk in his office.
Last year he spent about $13m (£7.95m) on his new hobby. "People tell me that's quite a lot," he says with a grin on his face. "I don't know exactly how many bottles I have, but I think it's five, seven, maybe 8,000."
For Raymond, this is a sensible investment too.
"More and more people are buying wine," he says. "For example, each of the top hotel owners in China, the top restaurant owners in China, they are finding out that simple decoration is not going to show they're the top. They have to have a wine cellar."
He points out that mainland China, unlike Hong Kong, still has a high level of import duty on wine. "If that's ever removed," he says, "prices will be boosted like crazy."
Not a fad
A small elite in many Asian countries has enjoyed fine wine for decades, but now more and more younger people are developing a taste for the grape.
Hong Kong now even has its own wine-maker.
The grapes are picked overseas and flash frozen. Then they are brought to the 8th Estate winery - part of a former factory on an industrial estate - where the walls are lined with the oak barrels in which the wines are aged.
They hold regular tastings, many of them for groups from Hong Kong and other Asian countries.
Wine-maker Lysanne Tusar believes the wine industry is moving its focus eastward.
"There's been a shift of wines from all over the world to Asia, and people in the industry coming here too," she says.
"This is not a fad... I think it could perhaps change the face of the wine industry."
Charles Curtis, Master of Wine and head of the wine department for Asia for Christie's auction house, says this is now where all the action is.
"London was the centre of the fine wine trade for centuries and then in the mid-nineties New York took over for a while," he says.
"There was quite a bit of consternation and hand-wringing for a while that these Americans were buying up all the wine and now it's switched again. I honestly feel that Hong Kong is going to remain the centre for at least 20 years to come, if not longer than that," he says.
Something splendid
He has this advice for those who fear they'll never be able to afford to compete with the rich Chinese collectors: take a long view.
"This has happened many many times. In the 19th Century, claret became more and more rare and nobody could afford the few authentic clarets that were produced and then in the roaring twenties the same thing happened again," he says.
"In the first three years of the 1970s, there was a huge run-up in prices, and the same thing happened in the mid-90s. The same thing is happening now. You just have to wait the cycles out and you'll be able to drink everything you want to drink," he promises.
If China ever does lower its import taxes, the flow of bids from the mainland for the best of the world's cellars could become a flood.
That would be bad news if you are a connoisseur or a collector, but it might be better news for those who have a case of something old - and rather splendid - tucked away at home and forgotten. Hong Kong might not be a bad place to offer it for sale.