Philippines court agrees plea deal with general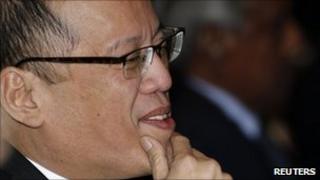 A Philippine court has approved a plea bargain deal between prosecutors and a former top general, Carlos Garcia, accused of widespread corruption.
The corruption court dropped plunder charges in favour of lighter bribery and money laundering charges.
The deal was drawn up by Merceditas Gutierrez, the former ombudsman who resigned after a vote to impeach her.
President Benigno Aquino said he was surprised by the decision, and would attempt to have it overturned.
"Personally I thought, how did the Sandigan [corruption court] arrive at this kind of decision? It's as if it was in a vacuum,'' he told reporters.
He cited testimony heard by the Senate about the proposed plea bargain in which officials had said they would not have accepted it had they seen all the evidence.
Solicitor General Joel Cadiz said the government would file a "motion for reconsideration".
"If our motion for reconsideration is denied, we will go definitely to the Supreme Court," he said.
Mr Cadiz had sought to have the plea bargain overturned in January on the basis that strong evidence had been ignored.
Plunder charges would make Mr Garcia vulnerable to life imprisonment while the lesser charges allow him to be free on bail.
He has returned assets worth 135 million pesos ($3.1m, £1.89m) out of an alleged 303 million pesos appropriated from the military.
The apparent extent of Mr Garcia's illicit assets first became public when the US Customs Department said in 2003 that his sons had been found trying to enter the country with $100,000 in undeclared funds.
The former ombudsman, Ms Gutierrez, is accused of failing to investigate allegations of corruption against former President Gloria Arroyo and other high-ranking officials.
Mrs Arroyo's government had vowed to make an example of the general, who earned about $600 a month.
The Philippines is ranked among the most corrupt places in Asia by international watchdogs.