Andijan killings: Eyewitness in hiding six years on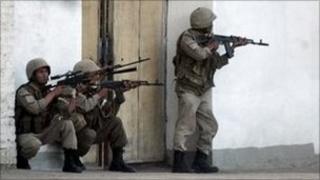 Five months after Uzbek troops opened fire on hundreds of civilians in Andijan on 13 May 2005, Makhbuba Zakirova caused a small sensation.
In a Tashkent court room where 15 men were tried for organising an Islamist uprising, Ms Zakirova challenged the official version of what happened.
She told judges and prosecutors how she saw government troops opening fire on unarmed civilians in Andijan's central square from military vehicles.
Later on, as dozens of people fled towards the nearby border with Kyrgyzstan, she said soldiers shot at people waving white flags, including women and children.
"Even Hitler did not do such things," she said.
Ms Zakirova's statement dropped like a bombshell on the proceedings, which were judged by many foreign observers as little more than a show trial.
Her testimony didn't alter the outcome, but it was another piece in the puzzle assembled by eyewitnesses and human rights activists who claim to this day that hundreds of civilians were killed in Andijan.
Pre-prepared testimony
Her court appearance profoundly changed Ms Zakirova's life.
She is now in hiding abroad, from where she told the BBC Uzbek service that she had spent three years under house arrest in Uzbekistan.
Journalists, curious to follow up on her testimony, were kept at bay by the secret services.
Remembering her day in court, Ms Zakirova said that she had been given a pre-prepared testimony which she was supposed to learn by heart and recite in court.
"They asked me to describe the organisers of the protest as 'terrorists, who took people hostage and brought them to the square by force'," she says. "I was warned not to add a word myself."
But she said she always intended to say what she saw.
Other witnesses at the time, and the defendants themselves, appeared to speak in a rehearsed and artificial manner.
Ms Zakirova in contrast drew repeated questions from the prosecution; one official asked her whether she knew what she was saying.
Her testimony was dropped from state TV coverage which otherwise followed the trial in detail.
Uzbek official media described her as "mentally unstable".
But Ms Zakirova says that many ordinary people, who heard about her testimony via foreign radio stations, came to her house and thanked her for telling the truth.
"Because people saw with their eyes what happened in Andijan", she says.
False promises
She denies any connection to the Akromiylar, the Islamist group accused by the government of being behind the unrest.
Many of Ms Zakirova's family fled abroad in the immediate exodus to Kyrgyzstan after the shootings.
One of them - her sister Dilorom Abdukadirova - has become another symbol of the Andijan events and their aftermath.
Her case is highlighted in Amnesty International's latest annual report, which recounts how Ms Abdukadirova decided to return to Uzbekistan from Australia after receiving assurances from the authorities that she would not face charges.
Instead she was held for several days and ultimately jailed for 10 years for anti-constitutional activities in connection with the Andijan protests.
The wider family is now dispersed across many countries; members in Uzbekistan are suffering continued harassment.
It is a story shared by many other families who found themselves implicated in the protests in Andijan.