Japan nuclear: Tepco halts Fukushima cooling plan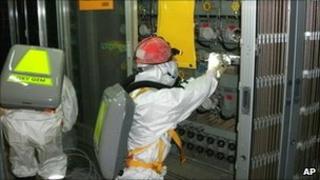 Japanese engineers have abandoned their latest attempt to stabilise a stricken reactor at the Fukushima nuclear plant.
The plant's operator, Tepco, had intended to cool reactor 1 by filling the containment chamber with water.
But Tepco said melting fuel rods had created a hole in the chamber, allowing 3,000 tonnes of contaminated water to leak into the basement of the reactor building.
The power plant was badly damaged by the earthquake and tsunami on 11 March.
Cooling systems to the reactors were knocked out, fuel rods overheated, and attempts to release pressure in the chambers led to explosions in the buildings housing the reactors.
The government and Tepco (Tokyo Electric Power Company) said it would take until next January to achieve a cold shut-down at the plant.
Government spokesman Goshi Hosono said the latest setback would not affect the deadline.
"We want to preserve the timetable, but at the same time we're going to have to change our approach," he said.
Tepco says it will come up with a new plan to stabilise the reactor by Tuesday.
Japanese broadcaster NHK said Tepco was now studying a plan to circulate water from the basement through a decontamination filter and back into the reactor.
The earthquake and tsunami killed thousands of people and left many more homeless.
The tsunami flattened buildings in fishing villages and port towns, and swept debris miles in land.
Last week the government agreed a huge compensation package for those affected by the disaster.
Analysts say the final bill for compensation could top $100bn (£61bn).