Indonesian human rights widow fights for justice
By Stephanie Hegarty
BBC World Service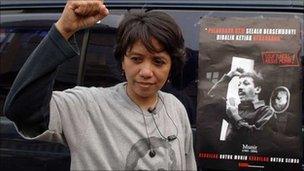 Leading Indonesian human rights campaigner Munir Said Thalib was murdered seven years ago - but his widow, Suciwati, continues his struggle for justice.
Every Thursday a group of women dressed in black gathers outside the grand gates of Indonesia's presidential palace in Jakarta.
They call themselves the Widows of Human Rights as they have all lost loved ones in cases linked to the country's state security agency.
The group is led by Suciwati Munir, whose husband was poisoned on a Garuda Indonesia flight to the Netherlands in 2004.
"Munir", as he was affectionately known by the media in Indonesia, was a vocal critic of Indonesia's government and military.
Suciwati has just returned from the Netherlands, where the government has honoured her husband's human rights struggle by naming a street after him in The Hague.
Retracing her husband's last journey is difficult.
"The person I love the most in the world died in the air above Europe. It is very hard, but it is a journey I need to make," she told the BBC World Service.
"There is something wrong with our nation that needs to be constantly talked about. This must never happen again."
In 2008, during a very public trial, a former pilot with the state-owned Garuda Indonesia airline was found guilty of the murder - reversing an earlier ruling quashing his conviction.
Pollycarpus Budi Priyanto was sentenced to 20 years in prison.
Indonesia's current President, Susilo Bambang Yudhoyono, had come to power at the end of 2004 with a promise to stamp out corruption in politics. He called the Munir murder case a test for the nation.
But Suciwati and her fellow campaigners believe responsibility for the murder lies with the state security agency.
As founder of the Indonesian human rights watchdog, Kontras, Munir was involved in a high-profile case against the Indonesian security forces over the abduction of 13 activists in the late 1990s.
A presidentially appointed fact-finding team later accused the former director of the state security agency, Muchdi Purwopranjono, of Munir's murder.
When he was finally brought to court in 2008 he was acquitted by a district court judge. Suciwati is challenging this decision.
Pressure and intimidation
From the beginning of their relationship, Suciwati understood the risks she and her husband faced.
"I was a labour rights activist myself," she says. "I too had experienced pressure and intimidation from the security forces - that's why we connected straight away."
"I knew I would have to be strong because when Munir focused on something that was it, he gave himself completely."
She recalls once when her husband was giving a speech and his criticism of the security forces was so harsh she was sure that someone in the audience from the military or the intelligence agency would kill him on the spot.
"When I told him later he laughed and told me I was being dramatic," she says.
On the day that her husband died, Suciwati was alerted by his deputy at the human rights organisation that something was wrong.
"I am not someone who can wait for information," she says. "So I got on the phone and started calling and calling.
"I finally got someone at Garuda Airlines called Yan who told me, 'Yes he is dead and I have seen the body, please don't tell anyone I told you'."
Suciwati is as determined now as she was seven years ago to bring her husband's murderers to justice.
"The person who planned the murder, that evil person, cannot be left alone, because they could kill again. Anyone who is critical or described as an enemy could be killed."
In January 2010 she won a civil case against Garuda Indonesia for allowing the murder to happen and was awarded 600 million Indonesian rupiah ($70,000; £43,000), which she refused to accept.
Determined to keep Munir's case and human rights at the centre of Indonesian politics, she is taking legal action to make Garuda issue a public apology over the murder, and erect a statue of her husband in Jakarta.
Recently Suciwati has moved with her two children from Jakarta to the village in East Java where Munir was from.
"Munir was very happy here. We had an agreement that if Indonesia was a democracy we would spend our retirement here, we would write, maybe do some farming.
"But Indonesia is not there yet, it is still far from what we dreamed of."
Her battle is far from over.
Related Internet Links
The BBC is not responsible for the content of external sites.