Oranges and Sunshine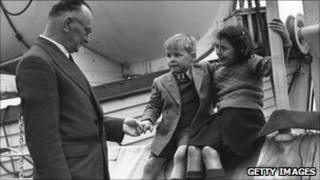 Of all the stories that I have covered in Australia, few have been as moving or enraging as the treatment of the British child migrants.
It was also the story where I probably came closest to crossing the line that separates journalism from advocacy. At the time, victims were pressing for an apology from the British government, which ultimately came to be delivered by the then prime minister, Gordon Brown, in February last year.
Yet how could one not be angered by the treatment of more than 150,000 children who were forcibly relocated from Britain to corners of its empire and commonwealth - a practice that continued until the late 1960s? More than 7,000 children were shipped to Australia, and many were tricked into thinking they were embarking on a life of adventure and abundance.
Many ended up in orphanages and institutions where they were treated harshly and in many instances physically and sexually abused. Some were told they were orphans, the cruellest of fictions, since often their parents were still alive.
Many parents were informed by officials that their children had been adopted by British families, when they had actually been shipped abroad - castaways of the empire.
I well remember writing this story, and thinking that I must have got things terribly wrong. It was simply too bad to be true. But the sin was of omission. The piece merely scratched at the surface, and told the stories of only a few child migrants and highlighted just a few instances of abuse.
Many child migrants were promised oranges and sunshine on arrival in Australia, which is the title of a new film chronicling their plight that goes on general release next month - it has been out for a few months in Britain already.
It follows the story of Margaret Humphreys, the Nottingham social worker who first became aware of the problem when a child migrant contacted her from Sydney in the hope of retracing her British parents.
Official denial
Disbelief at the treatment of the children quickly turns to outrage when she realises how many youngsters were affected and how little successive British and Australian governments had done to assist them - or even publicly acknowledge their existence. The policy in both hemispheres was one of official denial.
Margaret Humphreys, who is played by the actress Emily Watson in the film, has essentially ended up commuting between Nottingham and Australia for the past three decades.
Documenting the full extent of the problem - the most Herculean of tasks given the numbers involved - exposing criminal abuse, counselling the victims and reuniting separated families has become her life's work. Emily Watson captures her sensitivity, steeliness and bravery - for there were times when her safety was at risk.
Her husband, Merv, who played a key role in the investigation, also emerges as a hero. So, too, does Nottinghamshire County Council, which helped fund their early work.
Two of Australia's finest actors, Hugo Weaving and David Wenham, play child migrants struggling, in their very different ways, to make sense of the deception and mistreatment that scarred them so profoundly.
As an aside, Adelaide doubles as Perth in the 1980s, because the capital of Western Australia now looks so shiny and new.
I saw the movie at its Sydney premiere on Monday night, and it's a very affecting piece of cinema. Directing his first film, Jim Loach - the son of Ken - has done a fine job. I should have taken tissues, and would urge you to do so.
For those unaware of the story of the child migrants - it was little known until the Observer newspaper in Britain shone a spotlight on the Humphreys work in 1987 - the film will be deeply upsetting. For those who know the story, Oranges and Sunshine still has the capacity to shock.