Australia Human Rights Commission in asylum warning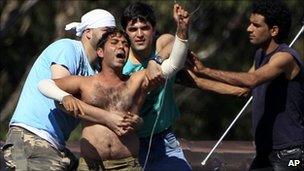 Australia's human rights watchdog has called for an end to the mandatory detention of asylum seekers, citing suicides, riots and depression.
The Human Rights Commission report focused on the Villawood detention centre in Sydney.
Some detainees thought often of suicide and self-harm, and some had swallowed detergents and chemicals, it said.
It comes a day after the UN human rights commissioner attacked Australia's tough refugee policies.
Navi Pillay called for an end to mandatory detention and spoke of a "racist" undercurrent in Australia.
She has also been critical of Australian politicians for demonising asylum seekers for domestic political gain.
Australia's Human Rights Commission condemned the treatment of asylum seekers at the Villawood detention centre, noting that their prolonged detention was causing serious mental problems.
It noted that some detainees sewed their lips together in protest at their treatment.
Commission president Catherine Branson said: "What we saw at Villawood was the result of the system of mandatory and indefinite detention, where people can see no end in sight because there is no set time limit on the period a person can be held in detention," she said.
Over the past nine months there have been six deaths in Australia's detention centre network, five of which appeared to be suicide.
In the past six weeks there have also been two major riots, first at the Christmas Island offshore detention centre in the Indian Ocean and then at Villawood in Sydney.
But the Commission's call for an end to mandatory detention is unlikely to happen since the Labor government is sensitive to the opposition charge that it has been soft on border protection - a major issue in Australian politics, says the BBC's Nick Bryant in Sydney.
Meanwhile, Australia's Foreign Minister Kevin Rudd has defended a controversial deal that will allow asylum seekers arriving by boat to be transferred to Malaysia for processing.
Under the swap deal, up to 800 new boat arrivals to Australia will be relocated to Malaysia; in return, Australia will accept 4,000 people registered refugees living in Malaysia.
Ms Pillay said the proposed deal potentially violates refugee law. Malaysia is not a signatory to the UN Refugee Convention.
But Mr Rudd said the plan had backing from the UN High Commissioner for Refugees and the International Office of Migration.
"The key thing is we're taking kids out of mandatory detention, we are making sure that processing times are accelerated so that once basic checks are undertaken there is a way through this," he said.
"We are also making sure there are proper and humane conditions."
Related Internet Links
The BBC is not responsible for the content of external sites.