China trip by North Korean leader Kim Jong-il ends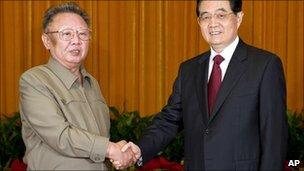 State media have confirmed that the North Korean leader, Kim Jong-il, has been visiting China.
Chinese state television showed Mr Kim being embraced and kissed by the Chinese President Hu Jintao.
Chinese reports quoted Mr Kim saying he wanted to focus on economic development and return to denuclearisation talks.
It was Kim Jong-il's third visit to China in a year, in a sign of his country's growing dependence on its neighbour.
The warmth of coverage of his visit, and the flattery of official comments by China, gave Mr Kim much-needed political support, analysts said.
"North Korea is currently focusing its efforts on economic development and we really need a stable environment for this," the state broadcaster China Central Television quoted Mr Kim as saying.
Mr Kim also said he hoped to ease tensions on the Korean peninsula and return to six-nation denuclearisation talks that include China, South Korea, the United States, Japan and Russia.
The reports said Mr Kim, seen in his trademark green suit, met Mr Hu and Premier Wen Jiabao ahead of a banquet at the Great Hall of the People.
The state news agency Xinhua said Mr Hu proposed "more efforts to share experiences on party building and state governance and promote economic and social development".
He also pushed for more communication and coordination on major international issues so the two countries could "jointly safeguard regional peace and stability".
Mr Hu was also reported to have praised North Korea for giving "top priority to improving people's lives".
North Korea's economy relies on aid and the country says it is facing severe food shortages this year.
The World Food Programme has already launched an emergency operation there, and the US special envoy for North Korea Human Rights is in Pyongyang to assess its food security needs.