Indonesia ex-treasurer Muhammad Nazaruddin 'flees'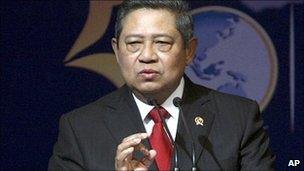 A senior figure in Indonesia's governing party has flown to Singapore a day before he was due to receive a travel ban for suspected corruption.
The ex-treasurer of the governing Democratic party, Muhammed Nazaruddin, is accused of accepting bribes worth almost $3m (£1.8m).
The case centres on tenders for the South East Asian games, to be hosted by Indonesia later this year.
Mr Nazaruddin has always denied the corruption allegations.
Mr Nazaruddin was dismissed by the party last week, and Indonesia's anti-corruption agency announced that it would be questioning him about the allegations.
However, Mr Nazaruddin flew to neighbouring Singapore on Monday, a day before the agency was to issue a travel ban for him.
Mr Nazaruddin had threatened to disclose details about other party members' misdeeds, in retaliation for his dismissal as party treasurer, says the BBC's Karishma Vaswani in Jakarta.
His quick departure has raised questions about why it was so easy for him to leave, given the gravity of the allegations against him, our correspondent says.
However, Mr Nazaruddin told the Jakarta Globe that he had travelled to Singapore for a medical check-up and would return to face Indonesia's Corruption Eradication Commission (KPK) as soon as his results were available.
"What did I do wrong? I have never been summoned by the KPK. If they call me I will come," he said, adding that he had sought permission from his party before he left the country.
President Susilo Bambang Yudhoyono has always tried to project an image of himself as the "Mr Clean" of Indonesian politics - one of the reasons it is believed Indonesians voted his party in for a second term in 2009.
He is hoping that his new economic agenda will spur more foreign investment in Indonesia - but these sorts of corruption scandals suggest that he still has a lot to do to prove he can change his country's culture of impunity, our correspondent adds.