China's Inner Mongolia 'under heavy security'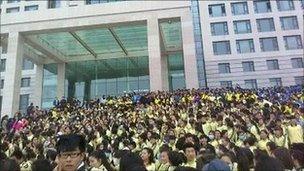 Chinese authorities have tightened security across the province of Inner Mongolia after days of unrest, rights groups and residents say.
Hundreds of riot police armed with batons have been posted at the main square in provincial capital Hohhot.
Access to the internet has been blocked in some areas, and universities and schools are under close watch.
The unrest erupted last week after two ethnic Mongolians were killed in separate incidents.
The demonstrations are thought to be the region's largest in 20 years, involving hundreds of ethnic Mongolians.
The New York-based Southern Mongolian Human Rights Information Centre said more demonstrations had been planned for Monday.
The centre described the situation in many parts of Inner Mongolia as martial law.
Residents of the city of Chifeng told the Associated Press that police were out in force, and the internet had been cut off.
"There's no point in going to the internet cafes since they have suspended business because the internet is down there too," said a waitress at a Chifeng restaurant.
A university worker in Hohhot told Reuters that three entrances to the institution had been sealed off by police.
The BBC's Michael Bristow in Beijing says references to the demonstrations are being wiped from the internet.
But he says the authorities are also trying to ease the anger of the ethnic Mongolians by sending senior Communist Party officials to the city of Xilinhot, where the trouble started.
Ethnic Mongolians were infuriated by the death of a farmer on 10 May. He was trying to protect his land when he was run down and killed, apparently by an ethnically Han Chinese driver.
Five days later, another ethnic Mongolian was killed during a protest at a mine.
Analysts say the deaths have tapped into deeper concerns among ethnic Mongolians that their traditional nomadic way of life is being overridden by mining projects.
The government confirmed last week that two Han Chinese had been arrested for murder, but gave no further details of the cases.
On Monday, the state-run Xinhua news agency reported that a man had been put on trial for the murder of Yan Wenlong, the ethnic Mongolian killed during the mine protest.
Some analysts believe the other man who was arrested is a suspect in the killing of the farmer on 10 May.
On Friday, provincial Communist Party chief Hu Chunhua met students and teachers and promised that anyone found to have committed a crime would be brought to justice, according to the state-run Inner Mongolian Daily.
"Please rest assured that the suspects will be punished severely and quickly," Mr Hu said, without specifying which cases he was talking about.
Less than 20% of Inner Mongolia's estimated 25 million residents are ethnic Mongolians. About 80% are Han Chinese.
Related Internet Links
The BBC is not responsible for the content of external sites.