Indonesia President Yudhoyono in web media outburst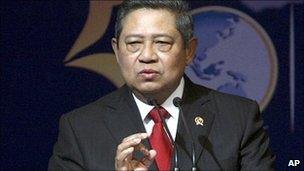 Indonesian President Susilo Bambang Yudhoyono has launched an attack on the media and web users for circulating "outrageous" messages about him.
He said someone "from a dark place with a dark heart" had slandered him.
Messages began circulating on the weekend accusing him and other members of his Democrat Party of corruption.
The Democrats have largely succeeded in appearing free of corruption in the past. But their ex-treasurer was recently accused of taking huge bribes.
Muhammed Nazaruddin went to Singapore last week, one day before he was due to receive a travel ban over claims he took $3m (£1.8m) of illegal payments.
He had threatened to expose alleged misdeeds of his former party colleagues in retaliation for his dismissal as party treasurer.
And two days ago, text messages emerged from a Singapore number saying Mr Yudhoyono and other Democrat Party members were involved in the same scandal.
The messages were widely quoted on social-networking websites.
The Indonesian media say Mr Nazaruddin sent the messages, but the claims could not be verified.
Mr Yudhoyono, who has made tackling corruption a stated priority of his government, is famous for his calm demeanour.
But on Monday he launched an uncharacteristic attack, saying: "Two days ago there was someone who slandered me from a dark place with a dark heart.
"This was outrageous slander including personal insults. I say openly they are irresponsible, ignoble and cowardly."
He said online media should be used to improve the life of the nation, not "to spread lies and assassinate character or abuse anyone".
Indonesia is often criticised for corruption, and rights groups say Mr Yudhoyono has had only limited success in his attempts to deal with the problem.
But no-one has ever made serious public allegations of corruption against him, and he denies any wrongdoing.