UN investigation into Malaysia rare-earth plant safety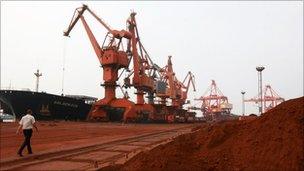 UN nuclear energy experts are in Malaysia to investigate whether a planned rare-earth refinery may pose a risk of radioactive pollution.
Malaysia has put the project in eastern Pahang state on hold temporarily.
China produces more than 90% of the world's rare earths supply; the plant, being built by Australian miner Lynas, could break China's domination.
The metals are essential for making many hi-tech products and some are used by the US weapons industry.
The nine-member team, led by a senior official from the International Atomic Energy Agency (IAEA), is expected to hold talks with government officials, local residents and activists, before inspecting the construction site near the town of Kuantan.
It follows public concern that radioactive waste produced by the plant would not be disposed of properly and could endanger local residents and the environment.
Lynas has said the plant will have state-of-the-art contamination controls.
The proposed plant was scheduled to begin processing rare earths in late 2011.
The Malaysian authorities are expected to decide whether to allow the plant to proceed with refining imports of raw materials from Australia after the panel submits its report at the end of June.
Rare earth metals are used in goods such as mobile phones, hybrid-car batteries, wind turbines and weapons guidance systems.
The Chinese government says it needs to limit rare-earth exports to protect the environment and Chinese industry, which is producing increasingly sophisticated products.
However the move has angered countries such as Japan which depend on the imports and have seen the cost of the goods they produce rise.
Mines in the US and Australia have been reopened in order to increase supply outside China. Canada and Brazil are also looking to increase their production.
Related Internet Links
The BBC is not responsible for the content of external sites.