South Korea digging for evidence in poisons probe
By Lucy Williamson
BBC News, Seoul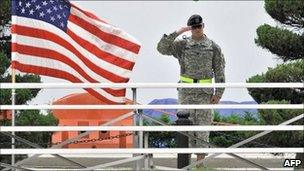 South Korea is launching an investigation into whether toxic chemicals were buried at US military sites in the country.
Military and civilian experts have begun surveys at the site of the former Camp Mercer, outside the capital Seoul.
The investigation team includes army and government officials, environmental experts and local residents.
Inquiries were prompted by allegations that American soldiers dumped large amounts of Agent Orange on Korean land.
Investigators will drill holes to collect soil and water samples at the former base at Camp Mercer.
If signs of contamination are found, the investigation could be widened to include more than 80 former US military sites across the country.
The investigation was sparked by former US servicemen, who told a TV documentary that the toxic chemical, Agent Orange, used as a defoliant during the Vietnam War, had been buried at another US base in South Korea, Camp Carroll.
A joint US and Korean investigation is ongoing at Camp Carroll, which is still home to US forces.
But a US medical specialist told the forces newspaper, Stars and Stripes, that he had seen no evidence of Agent Orange in barrels of chemicals dug up at the site in 1979.
Small traces of dioxin have been reported in the soil and groundwater there, and local media say residents near the camp will be tested for possible long-term effects.
Related Internet Links
The BBC is not responsible for the content of external sites.