Indonesia ends Malaysia maids row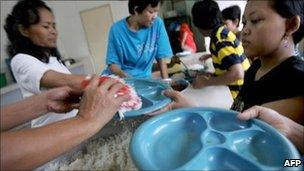 Indonesia is allowing maids to apply for work in Malaysia for the first time in two years, after ending a long-running row over abuse of workers.
The countries signed a deal aimed at improving working conditions for maids, guaranteeing them one day off a week.
They will also be allowed to keep their passports, rather than having to give them to their employers.
Indonesia banned its citizens from working as maids in June 2009, after allegations of abuse emerged.
Last year, a Malaysian woman was jailed for inflicting injuries on her maid using hot water, scissors and a hammer.
Indonesian migration minister Muhaimin Iskandar said the deal was part of a long-term plan to protect the rights of workers.
"After going through a long negotiation process, we have eventually reached an agreement that is a 'win-win solution', with a number of improvements for the Indonesian worker," he said in a statement.
More than one million Indonesians work in Malaysia, most as maids or labourers.
Related Internet Links
The BBC is not responsible for the content of external sites.