Indonesia defiant in Australia cattle cruelty row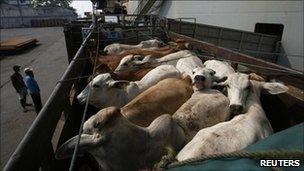 Indonesian officials have rebuffed claims of widespread animal cruelty in their abattoirs, after Australia halted cattle exports to some facilities.
Agriculture official Iswantoro told the BBC that Australia was concentrating only on the bad abattoirs.
An Australian TV documentary showed cattle being flogged, kicked, slashed with knives and banging their heads against concrete floors.
Some Australian MPs called for a total ban on the trade with Indonesia.
The country is Australia's largest live-cattle market, with exports worth more than AU$300m (£200m; $320m) a year.
Australia announced that it would stop exporting to 11 abattoirs featured in ABC's Four Corners programme while it conducted a wider investigation.
Australia's Agriculture Minister Joe Ludwig said he had found the images "shocking in the extreme".
Iswantoro, Indonesia's director of animal farming, told the BBC's Indonesian service he would look into the claims in the documentary.
"If there is a video showing abattoirs that are not fulfilling our standards, it is our responsibility to look into it," he said.
But he insisted that the country was committed to producing meat that was safe, secure, healthy and halal.
According to Muslim tradition, animals must be killed by having their throats cut, and all the blood must be allowed to drain out.
"There are lots of good abattoirs in Indonesia. The problem is [the Australians] only went to the bad abattoirs," he said.
The lobby group Animals Australia first uncovered cruel treatment in the abattoirs in March.
The group's director Lyn White said very few Indonesian facilities would meet international standards because they did not sedate the cattle before killing them.
"There are about 770 [abattoirs] in Indonesia and only five stun, so only five would have remotely acceptable standards," she said.
Ms White, several independent MPs and the Australian Greens are all calling for a complete ban on live-cattle exports to Indonesia.
Australia has shipped more than 6.5 million head of cattle to Indonesia for slaughter over the last 20 years.
Experts estimate 40% of beef eaten in Indonesia comes from Australian cattle.
Related Internet Links
The BBC is not responsible for the content of external sites.