Philippines massacre: Andal Ampatuan Sr denies killings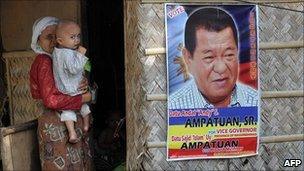 The leader of a political clan in the Philippines has pleaded not guilty to planning a massacre 18 months ago - a crime that shocked the nation.
Andal Ampatuan Sr is accused of overseeing the killing of 57 people, including more than 30 journalists and a number of his political opponents.
His son, Andal Jr, is alleged to have led the gunmen who ambushed the group in the southern Maguindanao province.
Lawyers for the victims say the legal process has been frustratingly slow.
The relatives jeered in the courtroom as Mr Ampatuan Sr gave the court his plea.
"It was the first time I saw him, he's not as old and as sickly as they claim," said Editha Tiamzon, whose husband was killed in the massacre.
The BBC's Kate McGeown in Manila says the trial is being seen as an important test of the country's legal system.
Critics say there is a culture of impunity for people with political connections.
Mr Ampatuan Sr was a former provincial governor, and an ally of former President Gloria Arroyo.
The International Federation of Journalists said bringing the Ampatuans to court was an important milestone.
"We can only hope that the trial continues to progress from this point on for the sake of the victims' families," said the federation's Asia-Pacific Director, Jacqueline Park.
Twelve other Ampatuan family members have also been arrested in connection with the case.
They are among 196 people facing charges related to the massacre.
The victims were ambushed on their way to file papers for one of the candidates in an election, Esmael Mangudadatu.
Several women were among the group, including Mr Mangudadatu's wife and his pregnant sister.
They were shot by about 100 armed men - their bodies were found in a mass grave in a secluded mountainous area of the province.