'Baby-leopard smuggler' flees Thailand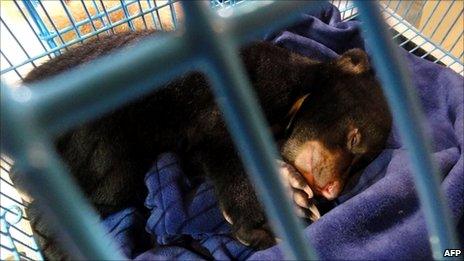 A man arrested last month at an airport in Thailand with a collection of baby animals in his luggage has fled the country while on bail.
Noor Mahmood, 36, from the United Arab Emirates, was arrested with leopard cubs, a monkey and a bear in his bags at Bangkok Suvarnabhumi airport.
But he failed to appear for a scheduled court appearance.
Immigration police confirmed he had left Thailand but refused to give details of his whereabouts.
The wildlife campaign group Freeland, which assisted police in the undercover operation that led to Mr Mahmood's arrest, expressed concern at the news.
"Since he was caught red-handed and charged, we want to know why he is not being prosecuted," said Freeland director Steven Galster said.
The four leopard cubs, bear cub, gibbon and marmoset are now being cared for by Thailand's wildlife department and are reported to be in good health.
The animals - all under two months old - had been drugged and put into cages in the man's suitcases, police said.
Mr Mahmood had been trying to board a flight to Dubai when he was detained.
Related Internet Links
The BBC is not responsible for the content of external sites.