Viewpoint: Australia's incredible parliament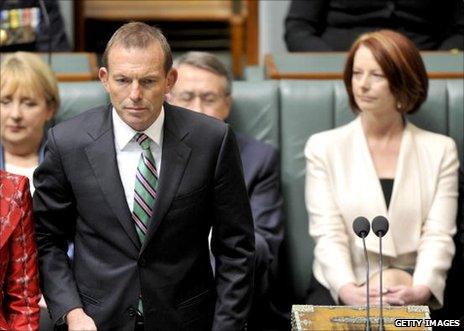 Iain Dale, the UK blogger and broadcaster, has been watching with increasing incredulity proceedings in Australia's lower chamber of parliament, the House of Representatives.
The Conservative commentator, who was interviewed by the BBC World Service during his current tour of the country, found that even the most innocent of children's TV programmes, Play School, got dragged into the mix at Parliament Question Time.
I have been watching Prime Minister's Questions in Britain for very many years and that can get incredibly rowdy but I have never seen anything like the Australian parliament.
The speaker interrupts virtually every 20 seconds, shouting "order!" or even naming members of parliament or even throwing them out of the chamber itself.
That happens in the UK Parliament maybe once every year or two - in the Australian parliament, it seems to be happening virtually every day.
I have watched it two days in a row.
Members do not just question Prime Minister Julia Gillard, they question all of the ministers. They have a time slot of about two hours each day of the week in a week when the parliament is sitting, which is very different to the British Parliament.
It is incredibly rowdy but the speaker, I think, actually makes it worse.
When the prime minister is answering questions, and the speaker is shouting "order! order!", she does not sit down but carries on, ploughing through it. It is a great spectacle but not a very edifying one.
I am not sure if parliament is serving its purpose of holding the government to account because every day, at 1450, Tony Abbott, the leader of the opposition, tries to get standing orders suspended and launches a censure motion against the government.
He does it at that time of day because at 1505, Play School follows Parliament Question Time on ABC1. He gets his speech in but by the time the prime minister gets up to defend herself, Play School has started.
It has become quite a spectacle every day and MPs are looking at their watches and shouting out "Play School", goading him to do it again. It is quite hilarious but my Australian followers on Twitter agree with me that it is an absolutely shameful, horrific spectacle.
They have actually reformed Parliament Question Time but it does not seem to have made any difference. I do think they need to look at the role of the speaker, Harry Jenkins.
He is quite an urbane chap and a popular guy.
But if he did what the British Speaker of the House of Commons, John Bercow, does - and, let's face it, John Bercow is not universally popular in the House of Commons - if when he got up, the prime minister sat down and everyone became quiet, that would make for a much calmer debate.
But he just sits there, shouts out "order! order!" and names various people, and they just do it again.
What I do not want to see is one of these boring parliaments, like the House of Representatives in the US or the German Bundestag, where they just stand there and make very boring speeches, and no-one interrupts or heckles.
You have to have balance. I do like the adversarial system but the Australians take it to such an extreme that I just think it probably brings it into disrepute.
Related Internet Links
The BBC is not responsible for the content of external sites.