US not trying to hold China down, says Robert Gates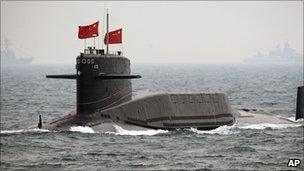 The US is not trying to hold China down or block it as a global power, Defence Secretary Robert Gates has said.
Mr Gates said he felt that US-China relations were in "a pretty good place" but continuing dialogue was essential.
He was speaking as he flew to a conference in Singapore which will include a delegation led by China's Defence Minister, Liang Guanglie.
China has been expanding its military and resents US arms sales to Taiwan, but has restarted US military talks.
"There is value in a continuing dialogue by the two sides on just exactly what our concerns are, what our issues are and how we might alleviate those concerns on both sides," said Mr Gates.
"We are not trying to hold China down. China has been a great power for thousands of years.
"It is a global power and will be a global power. So the question is how we work our way through this in a way that ensures that we continue to have positive relations," Mr Gates said.
"I think the Chinese have learned a powerful lesson from the Soviet experience," he said, in an apparent reference to over-spending on military goals to the detriment of the economy.
"They do not intend to try to compete with us across the full range of our capabilities but I think they are intending to develop capabilities that give them a considerable freedom of action in Asia and the opportunity to extend their influence."
China has no intention to match US military power, a top Chinese general said on a visit to Washington last month.
Speaking in Washington, Gen Chen Bingde said America's armed forces remained far more advanced than China's despite considerable progress by China in recent years.
But Gen Chen warned that further US arms sales to Taiwan could damage US-China military relations.
China regards Taiwan as part of its territory and has vowed to use force against the island if it ever formally sought independence.
Last year, Beijing cut off most military-to-military contacts with the US after Washington announced more than $6bn (£4bn) arms sales to Taipei.
Related Internet Links
The BBC is not responsible for the content of external sites.