Ai Weiwei honoured by Royal Academy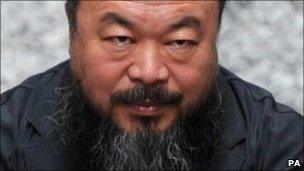 Detained Chinese artist and activist Ai Weiwei has been made an honorary member of Britain's Royal Academy of Art along with Danish painter Per Kirkeby.
Ai, a staunch critic of the Chinese government, was arrested in April trying to board a flight for Hong Kong.
The academy said he was being honoured as "one of the most significant cultural figures of his generation".
Each year, the 80 full academicians - who all practise in Britain - can vote in honorary international members.
China alleges that Ai has evaded taxes and destroyed evidence while his supporters say charges are motivated by his activism.
In October, the artist unveiled a carpet of 100 million porcelain sunflower seeds at London's Tate Modern, which he said questioned the role of an individual in society.
In 2009, the same gallery hosted a retrospective of the work of fellow honorary academician Kirkeby, one of Denmark's most prominent contemporary artists.
He gained international recognition in the early 1980s for his monolithic brick sculptures and is best known for his vigorous brushwork.
Related Internet Links
The BBC is not responsible for the content of external sites.