North Korea willing on human rights, says US envoy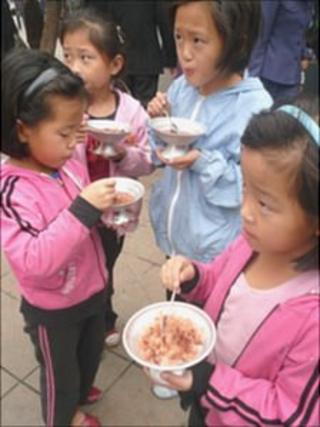 North Korean officials were happy to discuss human rights, the US envoy for human rights has said on his return from a first trip the country.
Mr King also said North Korean officials had invited him back to the country in a "significant" step.
His visit to the North was to assess the severity of its food shortages.
South Korea opposes new aid to the North without conditions while others have said aid should not be politicised when lives are at risk.
Mr King, reporting to Congress on a week-long trip to North Korea, said officials there had initially reacted with consternation to his title, but later warmed to the concept.
"They were willing to talk about human rights. They were willing to look at some of the issues that we are raising with them," Mr King said.
He said the North Korean official, Kim Kye-gwan, "invited me back to have a discussion on human rights and I look forward to possibly having that opportunity".
"This is a significant first step and I believe we can build up on this foundation with our partners who share our deep concerns about the North Korean people," he said.
'Bread and circuses'
No decision on food aid had yet been reached, he said.
If it was to be given, systems to monitor its delivery and distribution would have to be installed.
North Korea would also have to account for tens of thousands of tonnes of food aid that went missing the last time the US gave aid, in 2009.
"There should be strong opposition in the Congress to any attempt to provide food assistance paid for by the American taxpayer for more bread and circuses in Pyongyang," said Ileana Ros-Lehtinen, who heads the committee on foreign affairs.
A recent US state department report on North Korea highlighted concerns about the trafficking of girls and women into neighbouring China, the use of forced labour, the lack of freedom of speech and assembly, the torture of political prisoners and the severe punishment of repatriated asylum seekers.
It is the first visit to Pyongyang by an American official in 17 months, and the first by a rights envoy since 2004.
The World Food Programme (WFP) estimates six million North Koreans are suffering from food shortages.