Seabed mining risks in Pacific on Fiji talks agenda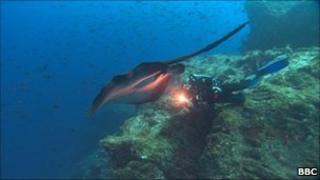 The prospect of deep sea mining for precious metals - and the damage that could do to marine ecosystems - is worrying environmentalists.
The number of firms seeking licences to dig through the Pacific Ocean floor is growing rapidly. A conference on the subject opens in Fiji on Monday.
Such seabed mining used to be too costly to be worthwhile.
But environmental groups fear advances in technology pose a new risk to the world's oceans.
The world's oceans are emergency zones, needing urgent rescue, they say.
The damage to sea life is only increasing - from illegal fishing, deep-sea bottom trawling and other destructive techniques - and now there is seabed mining.
The listed mining company Nautilus has the first licence to mine the floor of the Bismarck and Solomon oceans around Papua New Guinea.
It will be recovering what is called seafloor massive sulphide, for its copper and gold content.
Risk management
It is just one of several companies hoping for similar access across the Pacific.
But such mining can destroy vital, delicate eco-systems, says Steve Smith of Greenpeace International.
"Seabed mining is an emerging threat to the world's oceans and Greenpeace is working regionally here in the Pacific as that is where it is emerging right now," he said.
"And Greenpeace will have a presence at the meeting in Fiji but we are also working in the United Nations framework to ensure that the world's oceans are protected for the benefit of the world's people and not just for narrow industry interests like seabed mining."
Private companies, governments, experts and environmentalists will all be at the Fiji workshop, hosted by the Secretariat of the Pacific Community.
The European Union is helping to fund work on finding ways to manage the new industry of seabed mining.
But it is likely to take some time to work out who will be the winners in this deadly underwater competition.
Mr Smith, Greenpeace International communications manager, and Sarah Duthie, head of the group's Oceans Campaign, were visiting Bangkok as part of a new focus on the Asia-Pacific region.
"We are slowly building our work in the Asia region," said Ms Duthie.