Thai army chief Prayuth urges vote for 'good people'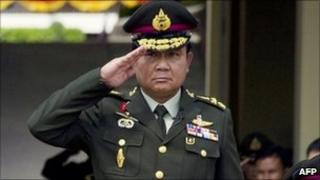 Thailand's powerful army chief has gone on state television to urge people to vote for what he called good people in the forthcoming general election.
Recent polls have given the opposition, linked to the fugitive former leader, Thaksin Shinawatra, a slight lead.
Mr Thaksin was ousted in a military coup in 2006 and lives in self-imposed exile, but remains a hugely influential and divisive figure in Thai politics.
The military has insisted it will stay out of politics.
But the army chief's intervention is raising fresh questions about the military's true intentions.
'Reasonable judgement'
Guessing the current thinking inside Thailand's army barracks is a national preoccupation.
So when the head of the armed forces goes on television less than three weeks before an election, his words are scrutinised.
General Prayuth Chan-ocha said Thais should choose political candidates who would ensure stability and protect the monarchy.
"If you allow the election to repeat previous patterns you will get the same thing as before," he said cryptically.
"Think who would be the good people to govern the country.
"I want you to use sound and reasonable judgement to make our country and our monarchy safe and have good people running our nation," he told voters.
Gen Prayuth did not mention any particular names or any particular party.
But his comments are being interpreted in some quarters as warning against an opposition victory.
The main opposition Pheu Thai party is effectively controlled by from exile by Thaksin Shinawatra, and led by his younger sister, Yingluck.
She has said she does not see the armed forces chief's comments as an attack on her party.
"It is good that the army will not get involved in politics and will be impartial on the election," Ms Yingluck said.
"I sincerely hope to meet him and achieve reconciliation and unity."
Pheu Thai is ahead in the opinion polls, but not yet enough to suggest it could win an outright majority.
That has raised the prospect of a period of political horse-trading after the election, in which, some fear, the army could yet play a role.